Taos Pueblo
United States of America
Factors affecting the property in 1993*
Air transport infrastructure
International Assistance: requests for the property until 1993
Requests approved: 0
Total amount approved : 0 USD
Missions to the property until 1993**
Conservation issues presented to the World Heritage Committee in 1993
[Oral report by ICOMOS and the Secretariat]
Summary of the interventions
Decisions adopted by the Committee in 1993
17 BUR VIII.2
Pueblo de Taos (United States of America)
ICOMOS informed of a letter recently received from the Pueblo Governing Council. ICOMOS reviewed the concerns of the Tribal authorities over proposals to extend the runway of the Taos, New Mexico, Airport and confirmed that such action could pose serious problems for the protection of the site and its environment, as well as traditional lifestyles of the Taos people. The Bureau agreed with this assessment and requested the Secretariat to convey its concerns to the U.S. authorities together with a request for additional information.
17 COM X
SOC: Pueblo de Taos (United States of America)
Pueblo de Taos (United States of America)
The Committee recalled that ICOMOS reported to the Bureau at its seventeenth session on the state of conservation of Pueblo de Taos. The Committee took note of the information received from the Governor of Pueblo de Taos and expressed its concern about threats to the site and local traditions, particularly the proposed extension of Taos Airport. The Committee requested the Centre to communicate these concerns to the Government of the United States, asking for detailed information on the conservation and management of the site.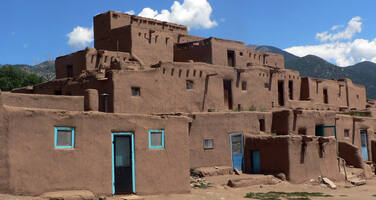 United States of America
Date of Inscription:
1992
Category: Cultural

Criteria: (iv)

Documents examined by the Committee
17COM (1993)
Exports
---
* : The threats indicated are listed in alphabetical order; their order does not constitute a classification according to the importance of their impact on the property.
Furthermore, they are presented irrespective of the type of threat faced by the property, i.e. with specific and proven imminent danger ("ascertained danger") or with threats which could have deleterious effects on the property's Outstanding Universal Value ("potential danger").
** : All mission reports are not always available electronically.