National History Park – Citadel, Sans Souci, Ramiers
Haiti
Factors affecting the property in 1993*
Financial resources
Legal framework
Management systems/ management plan
Other Threats:

Consolidation of the Sans Souci Palace and rehabilitation of the Royal Gardens required
Factors* affecting the property identified in previous reports
Rainwater infiltration;
Earthquakes;
Storms;
Flooding
International Assistance: requests for the property until 1993
Requests approved: 3 (from 1982-1987)
Total amount approved : 102,200 USD
Missions to the property until 1993**
Conservation issues presented to the World Heritage Committee in 1993
[Oral report by ICOMOS and the Secretariat]
Summary of the interventions
Decisions adopted by the Committee in 1993
17 COM X
SOC: National Historic Park - Citadelle, Sans Souci, Ramiers (Haiti)
National Historic Park - Citadelle, Sans Souci, Ramiers (Haiti)
A major ISPAN/UNDP/UNESCO project considerably contributed to the preservation and enhancement of the site and training of local personnel. The present economic and social situation has caused a serious decline in funding. But minimum and regular maintenance is being ensured by the national institute, ISPAN. Legal protection and management should be improved. Consolidation of the Sans Souci Palace and the rehabilitation of the Royal Gardens is required.
The Committee commended the Regional Project for the pioneer role in setting up this regional monitoring programme and the involvement of regional structures and experts. Several delegates expressed their interest in similar programmes being initiated in other regions, particularly Africa and Asia, drawing upon the experiences in Latin America. The Committee took note that the regional monitoring programme would be concluded in 1994 with the publication of a regional state of conservation report.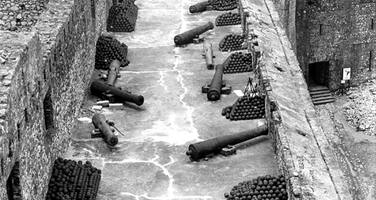 Haiti
Date of Inscription:
1982
Category: Cultural

Criteria: (iv)(vi)

Documents examined by the Committee
17COM (1993)
Exports
---
* : The threats indicated are listed in alphabetical order; their order does not constitute a classification according to the importance of their impact on the property.
Furthermore, they are presented irrespective of the type of threat faced by the property, i.e. with specific and proven imminent danger ("ascertained danger") or with threats which could have deleterious effects on the property's Outstanding Universal Value ("potential danger").
** : All mission reports are not always available electronically.