Bahla Fort
Oman
Factors affecting the property in 1993*
Management activities
Other Threats:

Degradation of the structures
Factors* affecting the property identified in previous reports
Degradation of the structures
International Assistance: requests for the property until 1993
Requests approved: 2 (from 1988-1988)
Total amount approved : 57,000 USD
Missions to the property until 1993**
October 1988: ICOMOS mission
Conservation issues presented to the World Heritage Committee in 1993
Reports that the Omani Ministry of National Heritage has requested a Moroccan firm to reconstruct Bahla Fort and that extensive works are being carried out. This ensemble which is entirely built with mud brick is now being reconstructed; we are informed, adding construction materials like cement, stone, reinforced concrete, etc. to the original substance. This undoubtedly jeopardizes the integrity and authenticity of the site and its World Heritage status. It is strongly recommended that a monitoring mission should be undertaken by a mud construction specialist.
Summary of the interventions
Decisions adopted by the Committee in 1993
17 COM X
SOC: Bahla Fort (Oman)
Bahla Fort (Oman)
The Delegate of Oman informed the Committee that the authorities were studying the necessary restoration works of the Bahla Fort and that a report would be presented to the Centre as soon as possible.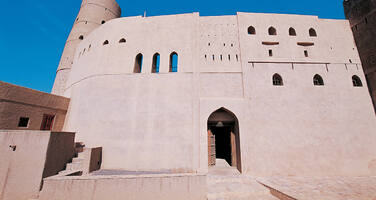 Oman
Date of Inscription:
1987
Category: Cultural

Criteria: (iv)

Danger List (dates): 1988-2004
Documents examined by the Committee
17COM (1993)
Exports
---
* : The threats indicated are listed in alphabetical order; their order does not constitute a classification according to the importance of their impact on the property.
Furthermore, they are presented irrespective of the type of threat faced by the property, i.e. with specific and proven imminent danger ("ascertained danger") or with threats which could have deleterious effects on the property's Outstanding Universal Value ("potential danger").
** : All mission reports are not always available electronically.