Historic Centre of Puebla
Mexico
Factors affecting the property in 1993*
Commercial development
Deliberate destruction of heritage
Housing
Major visitor accommodation and associated infrastructure
International Assistance: requests for the property until 1993
Requests approved: 0
Total amount approved : 0 USD
Missions to the property until 1993**
Conservation issues presented to the World Heritage Committee in 1993
During the month of September 1993, several letters were received at the World Heritage Centre, informing about a tourism development project to recreate the former Rio San Francisco in the historical centre of Puebla. This project would imply the demolition of a great number of colonial constructions from the XVII-XIX centuries in the areas of d'Analco la Luz, Los Remedios, La Cruz and San Francisco.
The World Heritage Centre transmitted this information to the Permanent Delegation of Mexico on 21 October 1993 requesting the competent authorities to examine the situation in Puebla and to inform the Centre as soon as possible of the outcome.
Summary of the interventions
Decisions adopted by the Committee in 1993
17 COM X
SOC: Historic Centre of Puebla (Mexico)
Historic Centre of Puebla (Mexico)
The Secretariat informed the Committee that several letters had been received on a tourism development project that would imply the demolition of historic buildings. The Delegate of Mexico informed the Committee that a decree had been published in the Official Journal of Puebla on 13 August 1993 for the elaboration of an Urban Development Plan, and not a Tourist Development Plan, for a specific sector of the town, and that this was an urban instrument defined by the General Law for Human Settlements, according to standards set by the Ministry of Social Development (SEDESOL).
This partial plan comprised the establishment of a project which was being elaborated by the Municipality of Puebla and which would be presented for discussion and eventual adoption during the first half of 1994, according to a report in the local press.
Therefore, according to the Delegate, it was not possible to discuss a project which does not yet exist, as there have been proposals and counter proposals and these would be evaluated in 1994.
Furthermore, with regard to the monitoring of sites, the Mexican authorities presented in October 1992 a report on the six first sites inscribed on the World Heritage List, amongst which was Puebla. In order to update and complete this report, a second report was to be presented, not only on these six properties but on the ten properties already inscribed. This work is expected to be completed in 1994 and would be presented to the Bureau session in July.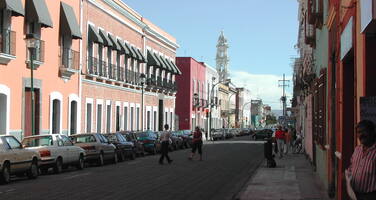 Mexico
Date of Inscription:
1987
Category: Cultural

Criteria: (ii)(iv)

Documents examined by the Committee
17COM (1993)
Exports
---
* : The threats indicated are listed in alphabetical order; their order does not constitute a classification according to the importance of their impact on the property.
Furthermore, they are presented irrespective of the type of threat faced by the property, i.e. with specific and proven imminent danger ("ascertained danger") or with threats which could have deleterious effects on the property's Outstanding Universal Value ("potential danger").
** : All mission reports are not always available electronically.