Chitwan National Park
Nepal
Factors affecting the property in 1991*
Factors* affecting the property identified in previous reports
Proposed irrigation project to divert the Rapti river
International Assistance: requests for the property until 1991
Requests approved: 2 (from 1988-1989)
Total amount approved : 80,000 USD
Missions to the property until 1991**
Conservation issues presented to the World Heritage Committee in 1991
[Oral report by IUCN and the Secretariat]
Summary of the interventions
Decisions adopted by the Committee in 1991
15 COM VIII
SOC: Royal Chitwan National Park (Nepal)
Royal Chitwan National Park (Nepal)
The Committee was pleased to note that the Irrigation Department and the Nepal Planning Commission have formally dropped their plans for a US$30 million irrigation project to divert the Rapti River which would have seriously threatened the integrity of this Park. A study undertaken by the Government of Nepal and the Asian Development Bank, following the intervention of the Committee, showed the project was environmentally unacceptable and its economic benefits to be doubtful. The Committee commended the Nepalese authorities for taking decisive action for the conservation of this site.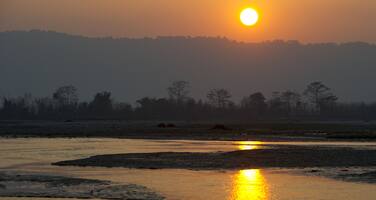 Nepal
Date of Inscription:
1984
Category: Natural

Criteria: (vii)(ix)(x)

Documents examined by the Committee
15COM (1991)
Exports
---
* : The threats indicated are listed in alphabetical order; their order does not constitute a classification according to the importance of their impact on the property.
Furthermore, they are presented irrespective of the type of threat faced by the property, i.e. with specific and proven imminent danger ("ascertained danger") or with threats which could have deleterious effects on the property's Outstanding Universal Value ("potential danger").
** : All mission reports are not always available electronically.