Presentation ceremony held to recognize tri-national World Heritage site
Friday, 18 November 2011
1 min read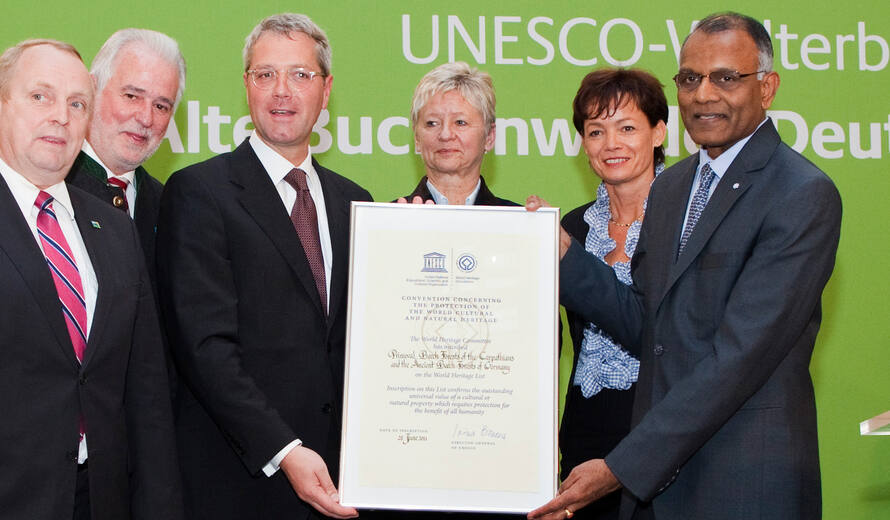 On 16 November 2011, Kishore Rao, Director of the UNESCO World Heritage Centre, presented a certificate to German Minister for Environment Norbert Röttgen and the State Ministers recognizing the inscription of the Primeval Beech Forests of the Carpathians and the Ancient Beech Forests of Germany on the World Heritage List. The ceremony was held in Berlin, Germany and included representatives of Slovakia and Ukraine, as the property is a transboundary site inscribed by the three countries.
The Ancient Beech Forests of Germany represent examples of on-going post-glacial biological and ecological evolution of terrestrial ecosystems and are indispensable to understanding the spread of the beech in the Northern Hemisphere across a variety of environments. The new inscription represents the addition of five forests totaling 4,391 hectares that are added to the 29,278 hectares of Slovakian and Ukranian beech forests inscribed on the World Heritage List in 2007.
The inscription is also symbolic for occurring in 2011, designated by the UN as International Year of Forests to raise awareness on sustainable management, conservation and sustainable development of all types of forests.
Friday, 18 November 2011
1 min read
World Heritage Properties
1