Published: Our Common Heritage: the Finnish National World Heritage Strategy 2015 – 2025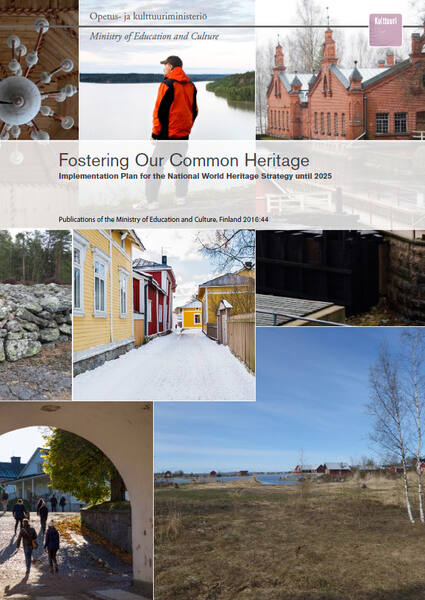 Tuesday, 3 November 2015
1 min read
The Finnish Ministry of Education and Culture has published a positive strategic plan for the preservation of world's heritage for the next ten years. 
The publication entitled Our Common Heritage focuses mainly on the national strategy for heritage preservation, but encourages also the collaboration on Nordic and international levels, particularly with properties in the developing countries. This Strategy draws heavily on guidance from the World Heritage Committee, including the Strategic Objectives of the Convention and the World Heritage Strategic Action Plan 2012-2022 and takes into account the outcomes of the Second Cycle of Periodic Reporting, the complete datasets of which were communicated to the States Parties by the World Heritage Centre.
The objective of this strategy is to implement 14 concrete measures to achieve the 5 main strategic guidelines: World Heritage policy in Finland, the preservation of World Heritage sites, capacity building, raising awareness of World Heritage and the need for community involvement. Awareness of World Heritage will be encouraged through better presentation of properties, more World Heritage education and a communication strategy. Cooperation and communication between all World Heritage players in Finland will be encouraged, including through the provision of sufficient resources. The Ministry aims at implementing these guidelines by 2025.
This strategy is a good example of a government developing a holistic, international approach to all its responsibilities under the World Heritage Convention. Its successful implementation aims to increase the appreciation for cultural and natural heritage and historical understanding, without having an immediate impact on government finances. The realization of the objectives would improve legal readiness to take world heritage sites into account in land use planning and town planning and it would increase the efficiency of public administration. This is a commendable way of preserving the world heritage sites in a sustainable and exemplary manner.
Source:
Our Common Heritage: For a National World Heritage Strategy 2015 – 2025
Tuesday, 3 November 2015
1 min read