Director-General meets Estonian Minister of Culture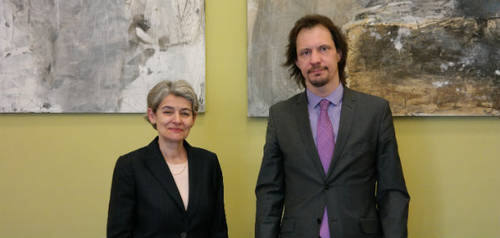 Monday, 4 May 2015
1 min read
On 4 May, the Director-General of UNESCO, Irina Bokova, met with the Minister of Culture, Mr Indrek Saar.
The Minister congratulated UNESCO on the 70th anniversary of its creation, underlining the enduring importance of the Organisation today. He also thanked the Director-General for her leadership, also in reforming the Organisation, and in the strong cooperation with Estonia.
The Director-General thanked the Minister for the leading role of Estonia in UNESCO as a member of the Executive Board and the World Heritage Committee. 
She took the opportunity to brief the Minister on the full range of UNESCO's contribution to States in shaping the post 2015 agenda -- including advocacy for culture as an enabler for development. She noted here the importance of the Group of Friends at the UN in New York and appealed for Estonia's support, namely to include this issue in the Political Declaration. 
Discussion followed on the World Heritage Convention, stressing the importance of maintaining the credibility of the process. 
The Director-General briefed also on the World Press Freedom Day International conference held in Riga, Latvia, as well as UNESCO's Internet-related study. The Minister thanked the Director-General for this cooperation and looked forward to deepening it ever more.
The Director-General was accompanied throughout the official visit by the Ambassador of Estonia and Permanent Delegate Mr Marten Kokk.
Monday, 4 May 2015
1 min read