Director-General meets Minister of Foreign Affairs of Estonia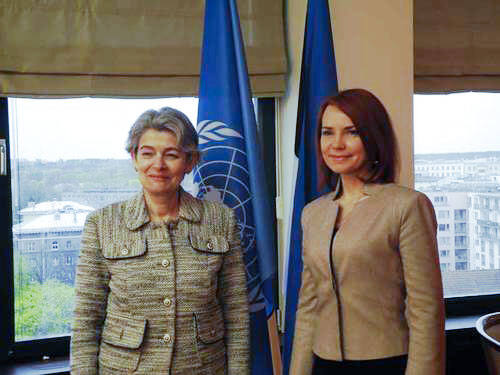 Tuesday, 5 May 2015
2 min read
On 4 May, during her official visit to Estonia, the Director-General of UNESCO, Irina Bokova, met with the Minister of Foreign Affairs of Estonia, Ms Keit Pentus-Rosimannus.
The Minister congratulated the Organisation on the occasion of its 70th anniversary and noted strong satisfaction with the reform led by the Director-General, to increase efficiency. The Minister highlighted the Estonian priorities in the Organisation of education, culture, and freedom of expression, including safety of journalists.
The Director-General thanked the Minister for the leadership of Estonia in the Organisation, as a member of the Executive Board -- including in leading trends relating to world heritage and intangible cultural heritage. She briefed on the World Press Freedom Day Conference held in Riga, Latvia, as well as on UNESCO's work in this area. Discussion continued on the implementation of the decisions of the Executive Board on the situation in Crimea, Ukraine, followed by exchanges on progress of the post 2015 global sustainable development agenda. 
Ms Bokova reviewed the contribution of UNESCO across the board to this agenda, and appealed for ever stronger Estonian support, namely in shaping the Political Declaration. She underlined here the crucial role UNESCO in monitoring and evaluating the agenda's implementation. On the same day, the Director General met with the Deputy Secretary-General for Planning, Ministry for Education and Research, Ms Kadri Maasik.
This meeting provided an opportunity to review the reform underway across the education sector in Estonia, including to introduce programme based budgeting. The Director General briefed on the reforms undertaken and underway in UNESCO, namely in results based management and budgeting. 
Discussion followed on the importance of data for shaping and implementing the new global sustainable development agenda to follow 2015. 
In addition, Ms Bokova had the opportunity to visit the Centre for Educational Technology, Institute of Informatics of the Tallinn University, where she met Mr Tiit Land, Rector of the Tallinn University and Professor Mart Laanpere, Director of the Centre for Educational Technology, along with researchers from the Centre. The Centre is a leading European institute in the field of technology enhanced learning, including 17 researchers, focussing on research and especially on active support to policy-making. The Director General expressed thanks for the presentations by researchers of the Centre's work and looked forward to possible cooperation -- namely, with Mobile Learning Week. 
The official visit concluded with a tour of the stunning Old Town of Tallinn, inscribed on the World Heritage List.
Tuesday, 5 May 2015
2 min read
World Heritage Properties
1