Training of Local Guides Launched for the Historic Town of Sukhothai and Associated Historic Towns World Heritage site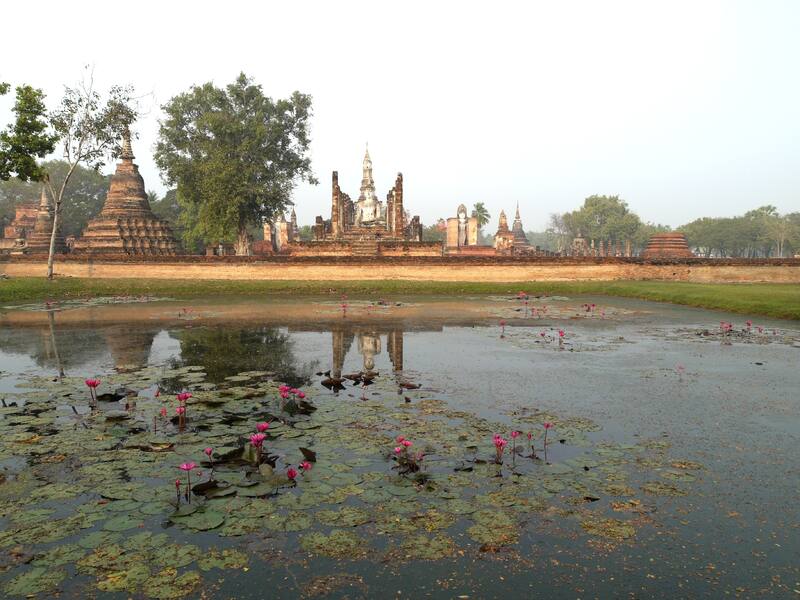 Wednesday, 7 May 2014
1 min read
UNESCO Bangkok Director Gwang-Jo Kim and Designated Areas for Sustainable Tourism Administration (DASTA) Director-General Nalikatibhag Sangsnit officially launched the "Cultural Heritage Specialist Guides for the Historic Town of Sukhothai and Associated Historic Towns World Heritage Site" project at a ceremony in Sukhothai on 21 April.
The Historic Town of Sukhothai and Associated Historic Towns in Sukhothai, Si Satchanalai and Kamphaeng Phet were inscribed on the World Heritage list in 1991 in recognition of their Outstanding Universal Value. As the capital of the first Kingdom of Siam in the 13th and 14th centuries, they represent masterpieces of the distinctive Siamese art and architectural style which is known as the "Sukhothai style".
The project will share UNESCO's experience from the regional Cultural Heritage Specialist Training Programme which focuses on training local guides as a way of contributing to local livelihoods and involving members of the community in safeguarding their cultural heritage. The guides produced through the programme will help enhance visitors' experiences and educate tourists about conservation issues.
Initiated in 2005, the regional training programme has proven successful in other World Heritage sites across Asia, including Lao PDR; Macao SAR, China; and Viet Nam.
This programme was recognized in 2007 by the World Heritage Committee at its 31st session as "a best-practice example of an initiative aiming at integrating the conservation of World Heritage within the wider sustainable development framework for the benefit of local communities". It was also singled out for the Pacific Asia Travel Association (PATA)'s Gold Awards in 2007, in recognition of "exceptional achievement" and setting "industry standards for excellence and innovation, serving as examples for others to follow."
The training in the Historic Town of Sukhothai and Associated Historic Towns will take place in 2014 and 2015. If proven successful, similar efforts could be rolled out to improve services at the Kingdom's other World Heritage sites.
Wednesday, 7 May 2014
1 min read
World Heritage Properties
1