Cocos Island National Park receives exceptional donation from Jaeger-LeCoultre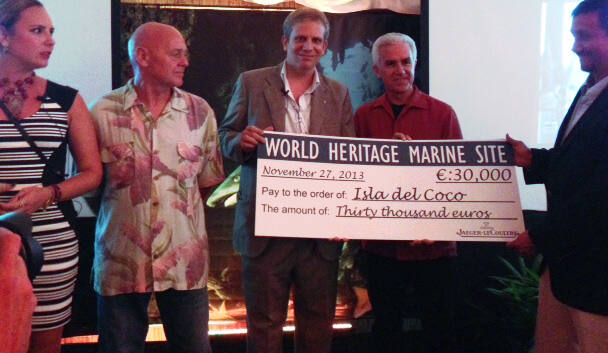 Friday, 29 November 2013
at 15:00
1 min read
On 27 November, Swiss watch manufacturer Jaeger-LeCoultre, a partner of the World Heritage Centre, donated 30,000 Euros for the preservation of Cocos Island National Park.
This World Heritage marine site is located 550 km off the Pacific coast of Costa Rica and is the only island in the tropical eastern Pacific with a tropical rainforest. The donation will be used to improve the conditions and equipment of the surveillance program toward countering illegal fishing at the site. Carlos Manuel Uribe Sáenz (president of the Fundacion Amigos de la Isla del Coco) and Fernando Quiros Brenes (manager of the World Heritage site) received the donation from Carlo Corazza (Tiempo Global) and Joanna Schroedel (Jaeger-LeCoultre).
Cocos Island's position as the first point of contact with the northern equatorial counter-current, and the myriad interactions between the island and the surrounding marine ecosystem, make the area an ideal laboratory for the study of biological processes. The underwater world of the national park has become famous due to the attraction it holds for divers, who rate it as one of the best places in the world to view large pelagic species such as sharks, rays, tuna and dolphins. The site was inscribed on the World Heritage List in 1997.
Jaeger-LeCoultre and the International New York Times have been partners of UNESCO's World Heritage Centre since 2008 through the innovative Tides of Time partnership. The agreement delivers both financial support to the World Heritage Centre's Marine Programme and a multi-year international media campaign through which specific conservation needs of World Heritage marine sites are highlighted. The overall goal of the Tides of Time partnership is to help defend and protect World Heritage marine sites of Outstanding Universal Value that require intervention to ensure future generations can continue to enjoy them.