Churches of Moldavia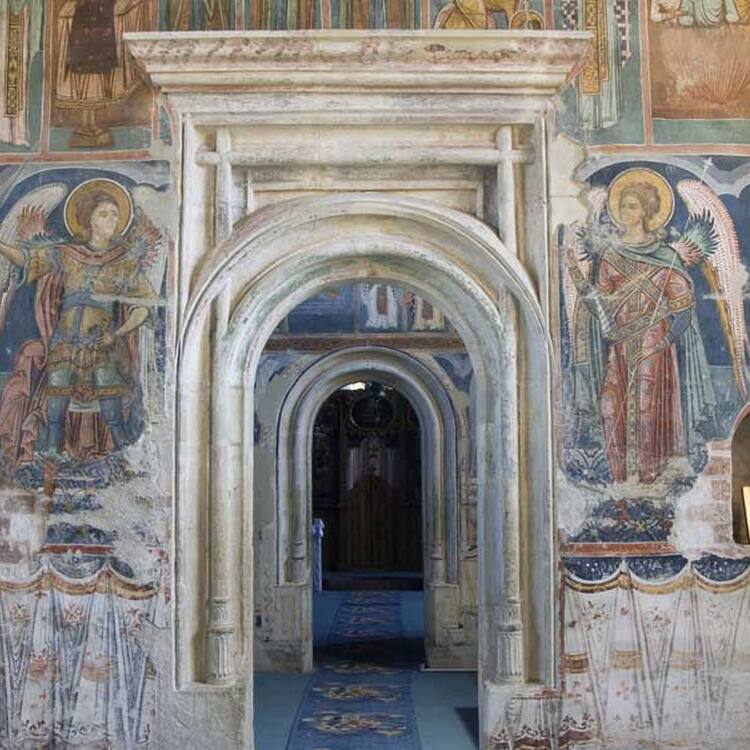 The Pridvor – entrance of the Church of St Nicholas of the Probota Monastery, with wall paintings representing biblical scenes and legends, South Bucovina © M & G Therin-Weise
Outstanding Universal Value
Brief synthesis
The churches with external mural paintings of northern Moldavia, built from the late 15th century to the late 16th century, are masterpieces inspired by Byzantine art. These eight churches of northern Moldavia are unique in Europe. They are authentic and particularly well preserved. Far from being mere wall decorations, the paintings form a systematic covering on all the facades and represent complete cycles of religious themes. Their exceptional composition, the elegance of the characters, and the harmony of the colours blend perfectly with the surrounding countryside.
Criterion (i): The external paintings of the churches of Northern Moldavia cover all the facades. They embody a unique and homogeneous artistic phenomenon, directly inspired by Byzantine art. They are masterpieces of mural painting, and are of outstanding aesthetic value in view of their consummate chromatism and the remarkable elegance of the figures. They present cycles of events taken from the Bible and the Holy Scriptures, in the Orthodox Christian tradition.
Criterion (iv): The idea of completely covering the external facades of churches by paintings is an eminent example of a type of church construction and decoration adopted in Moldavia, which illustrates the cultural and religious context of the Balkans from the late 15th century to the late 16th century.
Integrity and authenticity
The monastic church of Suceviţa has undergone no significant alteration in the course of its history. It preserves with total integrity its original late 15th century architectural structure, and its set of mural paintings, both internal and external. The monastery which surrounds it has conserved its initial appearance, and in particular its historic enclosure. The surrounding countryside, rural and forested, has undergone few transformations and changes up to the present day.
The mural paintings are authentic, as they have undergone only minimal interventions. They are in a good state of conservation. The restorations undertaken since the 1970s have been carefully carried out, with great emphasis being placed on respecting authenticity in respect of motifs and pigments, and on conservation conditions. The restorations to the roof have resulted in the church regaining its original appearance, as documented by ancient iconographic sources.
Protection and management requirements
The protection of the property is satisfactory, both for the serial property as a whole and for Suceviţa, where the property is a place of worship inside a functioning monastery. The protection is completed by the municipality of Suceviţa's general town plan for this zone, which was recently promulgated (January 2010). The plan should enable active control of building and other works inside the buffer zone and in the landscape environment of the church and monastery. The management plan has been drawn up, including the part pertaining to the extension. The Coordination Committee for the serial property has been set up, but details must be provided about how it functions locally.