World Heritage and Tourism in a Changing Climate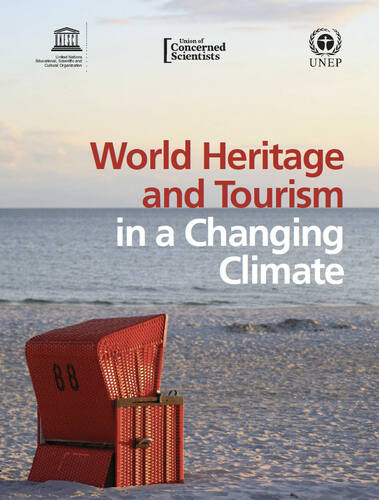 This report provides an overview of the increasing vulnerability of World Heritage sites to climate change impacts and the potential implications for and of global tourism. It also examines the close relationship between World Heritage and tourism, and how climate change is likely to exacerbate problems caused by unplanned tourism development and uncontrolled or poorly managed visitor access, as well as other threats and stresses. Tourism can also play a positive role in helping to secure the future of many World Heritage sites in a changing climate.
The report's goal is to provide up-to-date information and a basis for action on climate change, tourism and World Heritage in the follow-up to the adoption of the Paris Agreement by the Conference of the Parties to the United Nations Framework Convention on Climate Change (UNFCCC) in December 2015 and the 2030 Agenda for Sustainable Development, adopted by the United Nations General Assembly in October 2015. Using a series of case studies from World Heritage sites around the world, many of them iconic tourist destinations, the report shows how climate driven changes currently, or could in the future, threaten their outstanding universal value (OUV), integrity and authenticity, as well as the economies and communities that depend on tourism.
The case studies were chosen for their geographic representation, diversity of types of natural and cultural heritage and importance for tourism. Most importantly, they provide examples of a wide range of climate impacts, supported by robust scientific evidence. The 12 fully referenced case studies and 18 much briefer sketches provide examples from 31 World Heritage properties in 29 countries. An introductory section summarizes some of the common findings from the case studies and provides a situation report on the relationships between World Heritage, climate change and tourism.
The recommendations lay out a series of priorities for the international community, national governments, the tourism industry and site managers. The report was produced by UNESCO's World Heritage Centre, UNEP's Tourism and Environment Programme and the Union of Concerned Scientists (UCS), in close collaboration.
Download