Walled City of Baku with the Shirvanshah's Palace and Maiden Tower
Azerbaijan
Factors affecting the property in 2002*
Deliberate destruction of heritage
Housing
International Assistance: requests for the property until 2002
Requests approved: 1 (from 1998-1998)
Total amount approved : 15,000 USD
Missions to the property until 2002**
Conservation issues presented to the World Heritage Committee in 2002
During a mission to Azerbaijan, a staff member of the UNESCO Cultural Heritage Division noted that a number of the Old City's heritage buildings and houses have recently been demolished and replaced by new structures. The Centre transmitted this information to the authorities for review and to ICOMOS for comments. No reply has been received at the time of the preparation of this document.
Summary of the interventions
Decisions adopted by the Committee in 2002
26 COM 21B.36
The Walled City of Baku with the Shirvanshah's Palace and Maiden Tower (Azerbaijan)
The World Heritage Committee,
1. Welcomes the invitation by the national authorities for a joint UNESCO - ICOMOS mission to be undertaken to the site as soon as possible;
2.
Requests
that a report of the mission be presented for examination by the Committee at its 27th session in June/July 2003.
The Committee may wish to adopt the following decision:
"The Committee urges the State Party to provide a report on the situation and to invite a mission to the site to review the state of conservation of the Old City of Baku and any threats to its World Heritage values".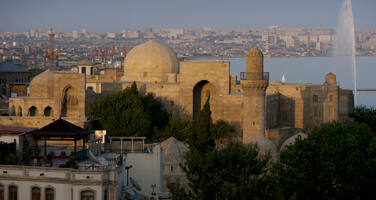 Azerbaijan
Date of Inscription:
2000
Category: Cultural

Criteria: (iv)

Danger List (dates): 2003-2009
Documents examined by the Committee
26COM (2002)
Exports
---
* : The threats indicated are listed in alphabetical order; their order does not constitute a classification according to the importance of their impact on the property.
Furthermore, they are presented irrespective of the type of threat faced by the property, i.e. with specific and proven imminent danger ("ascertained danger") or with threats which could have deleterious effects on the property's Outstanding Universal Value ("potential danger").
** : All mission reports are not always available electronically.