City of Luxembourg: its Old Quarters and Fortifications
Luxembourg
Factors affecting the property in 2001*
High impact research / monitoring activities
Housing
International Assistance: requests for the property until 2001
Requests approved: 0
Total amount approved : 0 USD
Missions to the property until 2001**
2001: ICOMOS experts mission
Conservation issues presented to the World Heritage Committee in 2001
By letter of 25 January 2001, the Minister of Culture of Luxemburg informed the Secretariat of the wish of the national authorities to build a Judiciary Centre on the Saint-Esprit Plateau of the City of Luxemburg. In this regard the Minister has asked UNESCO for advice on this building project. Following this request and in consultation with ICOMOS, two experts undertook a mission to Luxemburg. The mission report of the two experts, which was transmitted to the Permanent Delegation upon reception, underlined that the Saint-Esprit Plateau is not part of the World Heritage site, but that it is included in the buffer zone which has to be treated with the same care as the World Heritage site itself. The report suggested that, despite the advanced state of the project, the most compatible solution should be to abandon the idea of a judiciary centre at this location and to seek another location for this building in order to preserve and conserve the archaeological remains that have been discovered at the site. The authorities of Luxemburg informed the Secretariat that they may provide a written comment on the ICOMOS report which will be sent to the World Heritage Centre. At the time of the preparation of this document, this information had not been received by the Secretariat.
Summary of the interventions
This report was not discussed during the World Heritage Committee session.
Decisions adopted by the Committee in 2001
The Bureau may wish to examine additional information from the State Party that may be available at the time of its session and adopt the following decision:
"The Bureau notes the view of the ICOMOS mission that, despite the advanced state of the project, the State Party is encouraged to review this project and to identify another location for the Judiciary Centre. The Bureau invites the State Party to take into account the ICOMOS analysis in the implementation of the building project and requests the State Party to provide a progress report on the situation before 1 February 2002 to be submitted to its twenty-sixth session (April 2002)".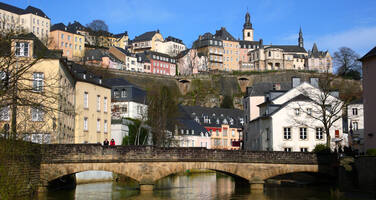 Luxembourg
Date of Inscription:
1994
Category: Cultural

Criteria: (iv)

Documents examined by the Committee
25COM (2001)
Exports
---
* : The threats indicated are listed in alphabetical order; their order does not constitute a classification according to the importance of their impact on the property.
Furthermore, they are presented irrespective of the type of threat faced by the property, i.e. with specific and proven imminent danger ("ascertained danger") or with threats which could have deleterious effects on the property's Outstanding Universal Value ("potential danger").
** : All mission reports are not always available electronically.