Hierapolis-Pamukkale
Türkiye
Factors affecting the property in 2001*
Impacts of tourism / visitor / recreation
Other Threats:

Discolouring of the limestone cliffs
Factors* affecting the property identified in previous reports
Management issues (issue resolved)
International Assistance: requests for the property until 2001
Requests approved: 1 (from 1991-1991)
Total amount approved : 20,000 USD
Missions to the property until 2001**
Conservation issues presented to the World Heritage Committee in 2001
IUCN has received preliminary worrying reports on the state of conservation of Hierapolis-Pamukkale World Heritage site. The reports note that the limestone cliffs are becoming discoloured. Furthermore, despite the authorities prohibiting visitors from entering the travertines, and the placement of signs explaining the fragility of the site, many visitors continue to enter the travertines. Collection of limestone souvenirs is also occurring. Few guards patrol the site, and there is little enforcement.
Summary of the interventions
Decisions adopted by the Committee in 2001
25 COM VIII
State of conservation reports of mixed properties noted by the Committee
State of conservation reports of mixed properties noted by the Committee
Tasmanian Wilderness (Australia)
Hierapolis-Pamukkale (Turkey)
Further to the recommendation of the Bureau and following an update of information from ICOMOS, the Committee noted that a Management Plan for this property had recently been completed.
The Bureau may wish to adopt the following decision:
"The Bureau requests the Turkish authorities to prepare a report on the situation of the limestone cliffs at site, as well as the overall management by 1 February 2002 for examination by the twenty-sixth session of the Bureau in April 2002."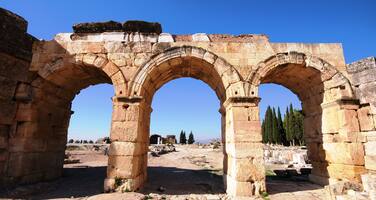 Türkiye
Date of Inscription:
1988
Category: Mixed

Criteria: (iii)(iv)(vii)

Documents examined by the Committee
25COM (2001)
Exports
---
* : The threats indicated are listed in alphabetical order; their order does not constitute a classification according to the importance of their impact on the property.
Furthermore, they are presented irrespective of the type of threat faced by the property, i.e. with specific and proven imminent danger ("ascertained danger") or with threats which could have deleterious effects on the property's Outstanding Universal Value ("potential danger").
** : All mission reports are not always available electronically.