Keoladeo National Park
India
Factors affecting the property in 1994*
Invasive/alien terrestrial species
Water (extraction)
Other Threats:

Decline in the population of Siberian cranes
Factors* affecting the property identified in previous reports
Insufficient water delivery
Possiuble invasion of Paspalum grass
International Assistance: requests for the property until 1994
Requests approved: 0
Total amount approved : 0 USD
Missions to the property until 1994**
Conservation issues presented to the World Heritage Committee in 1994
[Oral report during the session]
Summary of the interventions
Decisions adopted by the Committee in 1994
18 COM IX
SOC: Keoladeo National Park (India)
Keoladeo National Park (India)
The Committee recalled that this site was inscribed on the World Heritage List because of its importance as a wintering ground for the Siberian crane. At the time of inscription in 1985, there were 41 cranes which wintered in Keoladeo National Park. The Committee was informed that in 1994, no Siberian cranes wintered in Keolodeo; it was thought that due to hunting along their migratory routes in Afghanistan and Pakistan the population which used Keoladeo for wintering appears to have been extirpated. The Committee therefore requested that the Centre write to the Indian authorities expressing its concern and requesting that the status of the Siberian crane population be monitored for another year. The Committee noted that in the event that there are no signs of the return of the species to Keoladeo in 1995, then it might consider the prospect of delisting this site. In that case the Committee would request IUCN to make a detailed presentation on the subject at its next session.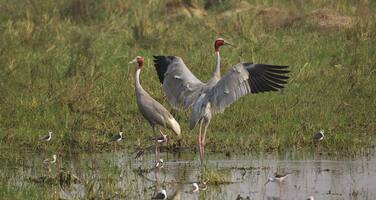 India
Date of Inscription:
1985
Category: Natural

Criteria: (x)

Documents examined by the Committee
18COM (1994)
Exports
---
* : The threats indicated are listed in alphabetical order; their order does not constitute a classification according to the importance of their impact on the property.
Furthermore, they are presented irrespective of the type of threat faced by the property, i.e. with specific and proven imminent danger ("ascertained danger") or with threats which could have deleterious effects on the property's Outstanding Universal Value ("potential danger").
** : All mission reports are not always available electronically.