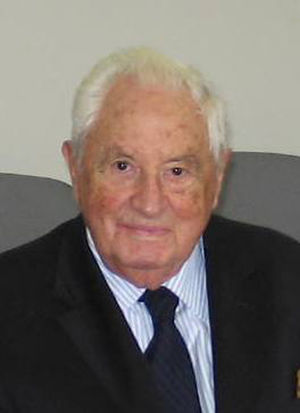 Interview
Gérard Bolla
Oral Archives of the
World Heritage Convention
Gérard Bolla studied economics and law in Switzerland before joining UNESCO in 1955. He became director of the office of Director-General René Maheu in 1969, a position he held for two years before being appointed Assistant Director-General for Culture.
It is in this capacity that he became involved in the negotiations for the drafting of the text of the World Heritage Convention and its adoption at the General Conference of UNESCO in 1972. He then participated in statutory meetings for World Heritage until 1981. His important contribution was highlighted in 1992 on the occasion of the twentieth anniversary of the Convention at the Committee's session in Santa Fe, United States.
With Michel Batisse, Gérard Bolla recorded his experience in The Invention of "World Heritage" in 2003, English translation 2005 (History Papers, Association of Former UNESCO Staff Members, History Club). He is also co-author of Le patrimoine à l'UNESCO: le défi de la sauvegarde, published in 2009 in the same series.
Interview with
Gérard Bolla
26 October 2007, Paris, France
The following audio excerpts are from an interview with Gérard Bolla by Christina Cameron and Mechtild Rössler the 26 October 2007 at UNESCO headquarters in Paris, France. These capsules reveal, thanks to Gérard Bolla's inside perspective, the behind-the-scenes negotiations leading up to the adoption of the World Heritage Convention. They also place the Convention in the wider circle of UNESCO's cultural and heritage interventions.
1. The World Heritage Convention
1a. Involvement and participation of Gérard Bolla in World Heritage
1b. The World Heritage List
1c. The Convention as a Tool for Conservation and International Cooperation
1d. Failures and successes of the Convention
2. The World Heritage Committee
3. The advisory bodies: IUCN, ICOMOS and ICCROM
Oral Archives of the
World Heritage Convention
Under the leadership of the Canada Research Chair on Built Heritage at the University of Montreal, an international team of researchers conducts interviews with pioneers of World Heritage to capture memories of important moments in the history of UNESCO Convention.
Launched in 2006, this initiative is part of the UNESCO History project that celebrated the 60th anniversary of the creation of UNESCO. The Oral Archives project records the precious witness of people closely associated with the creation and implementation of the Convention. Their recollections and views have greatly enriched the book by Christina Cameron and Mechtild Rössler, Many Voices, One Vision: The Early Years of the World Heritage Convention (Ashgate/Routledge, 2013).
Dates
Date Start: Friday, 26 October 2007
Date end: Friday, 26 October 2007