New World Heritage state of conservation information system accessible to public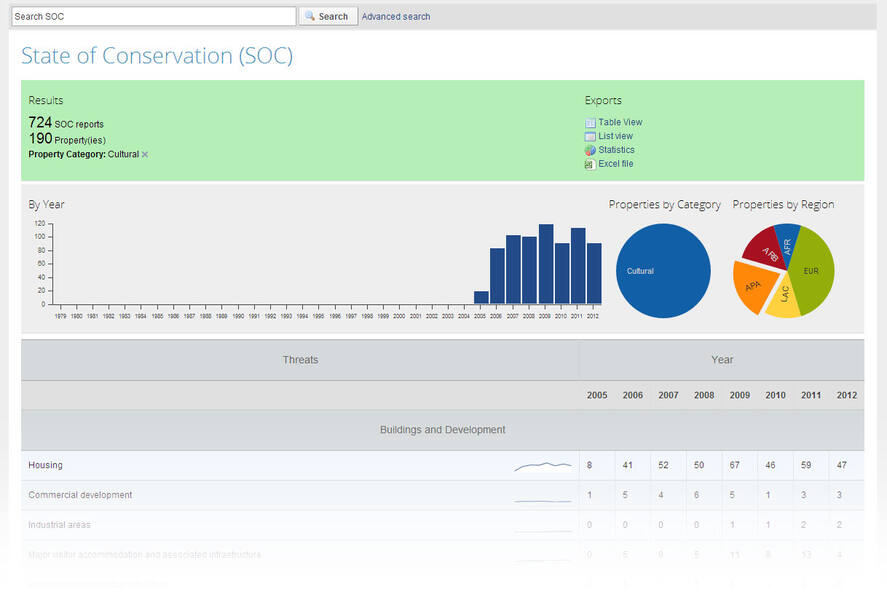 Wednesday, 5 December 2012
1 min read
The World Heritage Centre, with the support from the Flanders Government, has embarked on the development a comprehensive and integrated information system on the state of conservation of World Heritage properties. This information is now public and hosted on the World Heritage Centre's website. This public tool has a multi-criteria search form in order to extract specific data according to users' needs. 
Throughout the year, the World Heritage Centre and the Advisory Bodies (ICCROM, ICOMOS and IUCN) review a considerable amount of information on the state of conservation of World Heritage sites.  In a number of cases, reporting to the World Heritage Committee is required on the state of conservation of specific World Heritage sites under threat ("reactive monitoring").  On the basis of these state of conservation (SOC) reports, the World Heritage Committee decides, in consultation with the State Party concerned, whether additional measures are required to protect the property, whether it warrants inscription on the List of World Heritage in Danger, or whether it has deteriorated to the extent that it has lost those characteristics which determined its inscription on the World Heritage List.
In the 40 years since the adoption of the Convention, thousands of such SOC reports have been prepared by the UNESCO Secretariat and the Advisory Bodies, which represents an exceptional and extensive amount of documentation on various conservation issues. It is one of the most comprehensive monitoring systems of any of the international conventions, involving a global network of nearly 1 000 sites.
In addition to its main purpose in terms of monitoring the state of conservation of properties, this new tool also highly contributes to the institutional memory of the World Heritage Convention and facilitates well-informed and consistent decision-making.
Finally, it will also help all interested users to conduct comprehensive analyses of the threats affecting the properties and their evolution over time.  These analyses will help identify generic threats and potential trends, which will assist States Parties in improving mitigation measures to better protect their heritage.