World Heritage magazine: issue 104 September 2023
The extended 45th session of the World Heritage Committee begins in the Kingdom of Saudi Arabia, we express our gratitude to our hosts for convening the first in-person Committee since the onset of COVID-19. Surrounded by old friends and young professionals alike, we are reminded that this meeting is more than the sum of important decisions taken. It is a powerful platform where we rekindle the sense of 'heritage community' and renew our commitment to heritage.
This issue of World Heritage magazine features African heritage leaders who are empowering peers and creating positive ripple effects from Egypt to Mozambique. A report on climate change details the critical benefits provided by World Heritage forests notably through carbon absorption, with one caveat – their capacity will continue to decline unless we act now. A compelling story comes from Havana, Cuba, where a major UNESCO programme Transcultura is blending tangible heritage, intangible practices and contemporary creativity, true to the way culture intersects in the local communities.
Readers may notice the new design of this World Heritage magazine, which pays homage to the original iconic look. The first issue in 1996 put a spotlight on the accelerating international cooperation to conserve Angkor, bearing fruit in 2004 with the removal from the List of World Heritage in Danger. Just as the magazine has been a witness to history, it continues to champion the evolving principles of heritage safeguarding. This is why this revamped magazine will centrally feature stories of custodians, innovators and trailblazers, in line with the 'fifth C' (Communities) of the Strategic Objectives.
The words by the 80-year-old Havana resident Noemí Moreno should echo with many of us: 'In the end, we are nothing more than a bird that comes and flies away. History is what remains'. And so we get to work together, pooling experience gained over the past five decades of the 1972 Convention and the ancestral knowledge passed down over centuries, to preserve the remnants of history as best as we can.
Lazare Eloundou Assomo
Director UNESCO World Heritage
World Heritage
n° 104
September 2023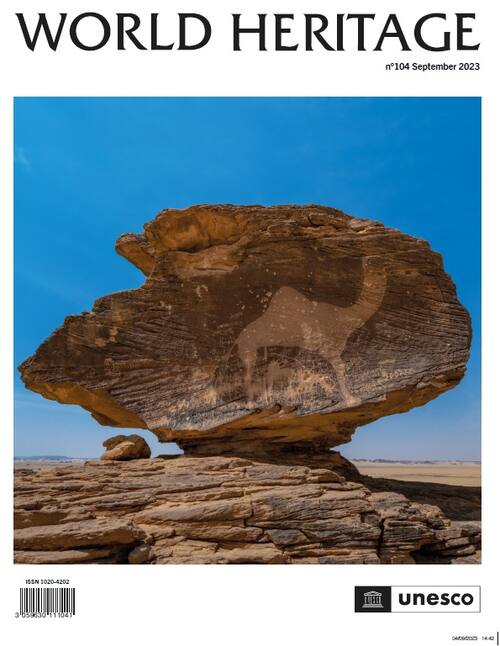 Monday, 11 September 2023
at 11:00
2 min read