Following the outbreak of avian influenza currently raging in Senegal and Mauritania, UNESCO organized on February 11, 2021, a virtual information and consultation meeting with the Senegalese and Mauritanian authorities in charge of the management of the Djoudj National Bird Park (PNOD), the Diawling National Park (PND) and the Banc d'Arguin National Park (PNBA) as well as representatives of FAO, the Convention on the Conservation of Migratory Species of Wild Animals (CMS), the CMS Scientific Task Force on Avian Influenza and Wild Birds, the Agreement on the Conservation of African-Eurasian Migratory Waterbirds (AEWA), the RAMSAR Convention, the IUCN World Heritage Programme, the MAVA Foundation, the Regional Partnership for the Conservation of the Coastal and Marine Area of West Africa (PRCM) and Oiseaux Migrateurs du Paléarctique Occidental (OMPO).
The fruitful exchanges between the forty participants made it possible to appreciate the important efforts made by the two countries with the support of their technical and financial partners to contain this epidemic. The main conclusion was that following the confirmation of the avian flu, precautionary measures were taken, multi-actor crisis committees were formed and are working hard to provide appropriate responses to this health crisis and protect the neighboring communities. In addition, the other ornithological sites in the region are subject to daily health monitoring confirming at this stage, their absence of contamination. However, additional sampling is planned to assess the overall state of circulation of the virus in the region. Also, a joint mission of WHO and experts from the sectoral Ministries of Environment, Health and Agriculture would be currently underway in Mauritania to assess the effectiveness of bio-sanitary measures.
To complement the FAO reference guide on surveillance of highly pathogenic avian influenza in wild birds and the national and regional action plans developed by the two countries, the CMS Scientific Task Force on Avian Influenza and Wild Birds is currently developing guidelines to strengthen the epidemiological response.  
The meeting concluded with the commitment of the different partners to support the countries' efforts in disease surveillance and a consensus action plan was adopted for the next steps.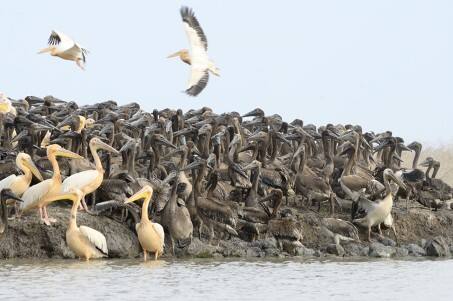 © Patrick Triplet