Global strategy needed in 'watershed' moment to steer away from unsustainable tourism, stress experts at UNESCO debate.
The online debate 'Culture, Tourism and COVID-19: Recovery, Resiliency and Rejuvenation' took place on 28 September and highlighted the devastating impact of COVID-19 on the tourism industry and the crippling effect it is having on many World Heritage sites, intangible cultural heritage practices, cultural activities and institutions, as well as their communities. The debate was organized by UNESCO in collaboration with the International Union for Conservation of Nature (IUCN), the International Council on Monuments and Sites (ICOMOS) and the International Centre for the Study of the Preservation and Restoration of Cultural Property (ICCROM).  The panel called for a shift towards tourism that regenerates destinations and provides economic, social and environmental benefits, while not losing sight of global challenges such as climate change.
"It is key that tourism and culture professionals work in partnership along with other sectors through this crisis", said Ernesto Ottone R., Assistant Director-General for Culture of UNESCO in his opening remarks. "We must ensure that cultural tourism is geared towards a path of resilience and sustainability and continues to make an important contribution to the Sustainable Development Goals", he added.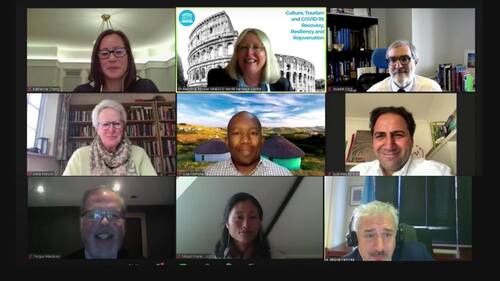 From overtourism to 'undertourism'
Prior to the COVID-19 crisis, tourism was a major economic sector, employing 1 in 10 people around the world. 1.5 billion people crossed international borders in 2019, providing a key source of income for many of the world's developing countries. Moderated by Mechtild Rössler, Director of the UNESCO World Heritage Centre, panelists discussed how this exponential growth of tourism created challenges for a number of World Heritage properties and protected areas, where carrying capacities were not established and 'overtourism' was displacing communities and diminishing goods and services. "Tourism was underperforming, highly vulnerable and heading towards a breakdown", said Anna Pollock, founder of Conscious Travel.
In the first half of 2020, international tourist arrivals dropped by 65% due to the COVID-19 crisis, representing a loss of about US$ 460 billion in export revenues, according to UNWTO. The drop in tourism revenue has cut off important income streams for the conservation and maintenance of World Heritage properties. In in the World Heritage site of Petra, Jordan, for example, the regional authority had been working on strategies to manage the one million visitors a year it was receiving. Since closing to visitors in March 2020, the property is now struggling to protect jobs and revive its local economy, according to Suleiman Farajat, the Chief Commissioner of the Petra Regional Authority.  
Furthermore, in many natural World Heritage sites, while reports have portrayed wildlife as thriving due to the lack of tourism, poaching has increased in protected areas due to the absence of rangers and tourists, according to the IUCN.
Defining a strategy for change
The debate explored how the current downturn in global travel can be used to develop new models and approaches for a resilient and sustainable tourism recovery that supports communities, creates jobs, promotes culture, and protects heritage and its transmission. To achieve this, the panelists agreed that an inclusive approach would be key. "When people are excluded, they destroy. When they are included, they protect", said Sisa Ntshona, CEO of South African Tourism.
The debate also stressed the importance of providing the travelling public with the tools to make informed, responsible travel choices. The panelists agreed that the private sector has a role to play in sensitizing people to the social and environmental considerations of the local destinations they are visiting. "It is the narratives and stories that draw people to a destination, and it is our job as tour operators and travel promoters to work with local communities to tell these stories", said Katherine Cheng, Head, Global Corporate Social Responsibility & Community Relations at Expedia Group. Ms Cheng also highlighted how the global online travel agency is promoting its sustainable tourism pillars through its partnership with UNESCO on the Sustainable Tourism Pledge.
This debate was organized within the framework of the new Task Force on Culture and Resilient Tourism established in response to the COVID-19 crisis by UNESCO and the Advisory Bodies to the 1972 World Heritage Committee (IUCN, ICOMOS and ICCROM).
The debate is available to watch in English and French.