"World Heritage Coral Reefs" Exhibit opens in Paris
Tuesday, 3 October 2017
2 min read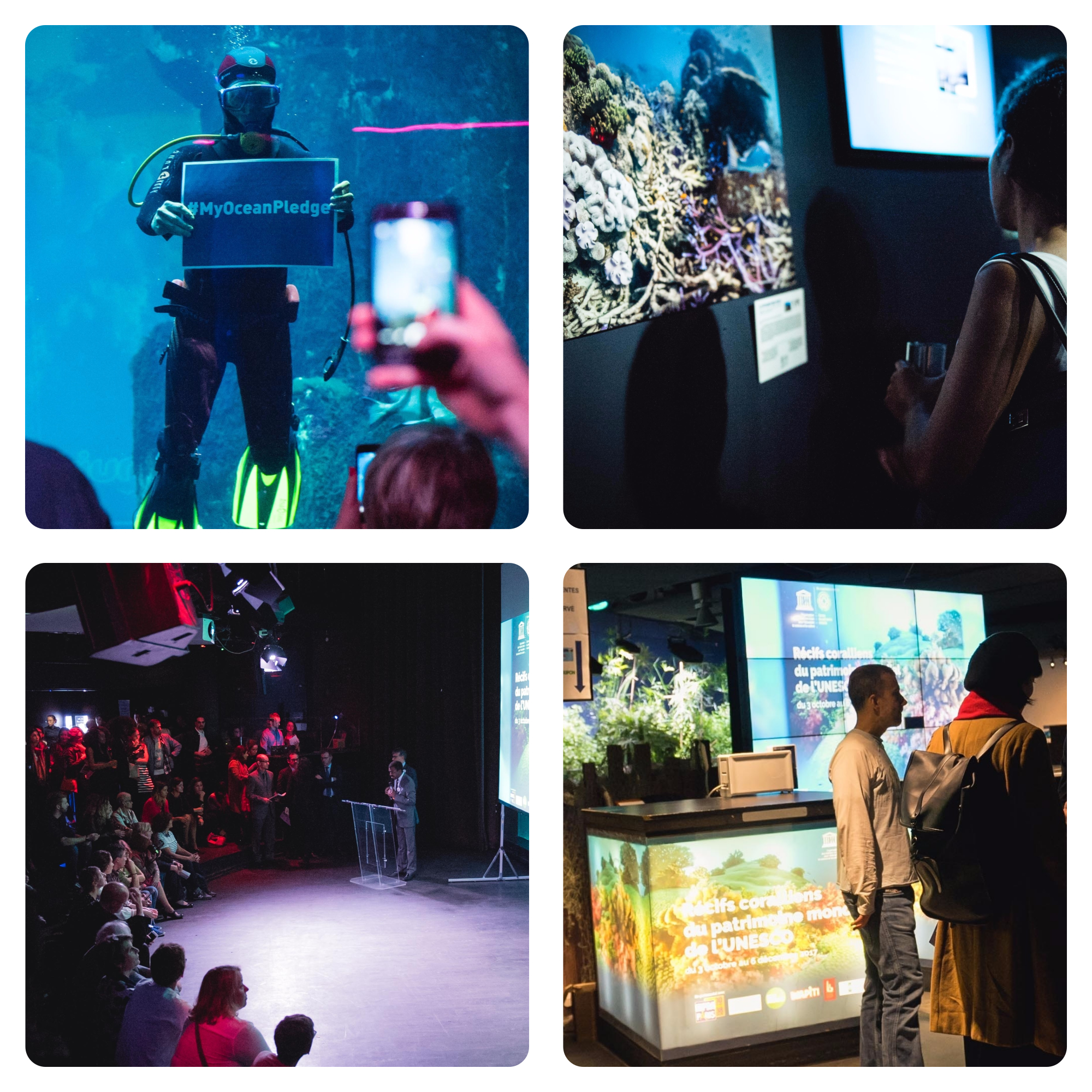 3 October 2017 – A stunning exhibit of the world's most iconic coral reef systems opened today at the Aquarium of Paris. The display sheds light on the condition of these coral reef systems inscribed on UNESCO's World Heritage List. Through a series of photos, virtual reality experiences, films and educational activities for children, the exhibit will raise awareness of the unique diversity of these reefs and the impacts of climate change on them.
Since 1972, the UNESCO World Heritage Convention has united the world around a shared responsibility to protect natural and cultural places of Outstanding Universal Value (OUV). The World Heritage List includes 29 natural, marine properties that contain coral reef systems. Stretching across the planet, these globally significant reefs include icons such as Lagoons of New Caledonia: Reef Diversity and Associated Ecosystems (France), the Great Barrier Reef (Australia), Papahānaumokuākea (USA), Belize Barrier Reef Reserve System (Belize) and Tubbataha Reefs Natural Park (Philippines). They are recognized for their unique and global importance and for being part of our common heritage of humanity.
As ocean temperatures rise, coral reefs around the world have been heavily impacted from mass bleaching events and World Heritage-listed reefs are no exception. The first global scientific assessment of climate change impacts on World Heritage coral reefs, published by UNESCO's World Heritage Centre last July, revealed that 25 of 29 listed reefs experienced bleaching stress in the last three years. The analysis predicts that all 29 coral-containing World Heritage sites might cease to exist as functioning coral reef ecosystems by the end of this century if CO2 emissions are not drastically reduced.
The new exhibit, which will run for two months until 6 December 2017, aims to improve understanding of the impacts of climate change on the globes' most treasured coral reefs among the public at large. Visitors will be taken on a journey and discover the exceptionally rich diversity of these reefs and learn about the day-to-day work of UNESCO's World Heritage Centre to help safeguard them for future generations. Throughout the exhibit, adults and children will be able to engage with specially trained staff to record their #myoceanpledge – a movement launched by children from UNESCO's marine World Heritage sites at the United Nations General Assembly, New York, during the high-level World Oceans Day celebrations on 8th June.
The exhibit is made possible thanks to the generous support of the Aquarium of Paris and its partners, as well as the French Agency for Biodiversity. Pictures have been generously provided by The Ocean Agency and World Heritage marine sites. Virtual Reality films have been provided by Seaview 360.