Symposium "Rallying for the protection of culture and heritage in SIDS under a sustainable 21st-century climate change agenda"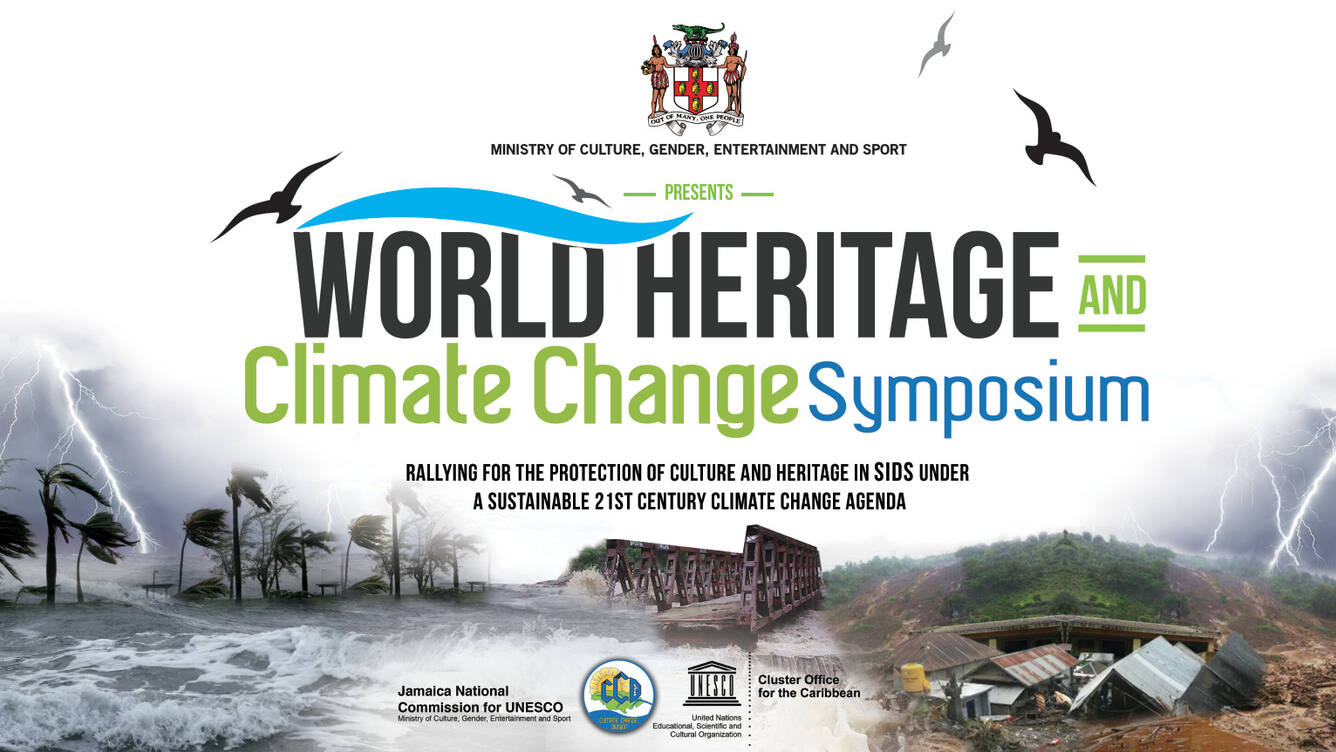 Wednesday, 31 May 2017
1 min read
From 29 to 31 May 2017, the Ministry of Culture, Gender, Entertainment and Sport (MCGES) of Jamaica, in cooperation with UNESCO Kingston and the Jamaica National Commission for UNESCO, hosted a three-day Symposium and workshop on the impacts of climate change on World Heritage in the Caribbean under the theme "Rallying for the protection of culture and heritage in SIDS under a sustainable 21st-century climate change agenda."
In the Caribbean sub-region, hurricanes, prolonged periods of droughts, flooding, erosion, other weather phenomena, and an increase in oceanic and atmospheric temperatures are having a severe impact on local climate, built heritage, and a myriad of threats to biodiversity. In this context, the MCGES in coordination with the Climate Change Division of the Ministry of Economic Growth and Job Creation in Jamaica decided to hold a symposium on the impacts of climate change on World Heritage in the Caribbean Region.
The Symposium was facilitated by international experts from ICOMOS and IUCN and the UNESCO Kingston Office, and included panel discussions and working sessions involving the United Nations Environment Programme (UNEP), the Union of Concerned Scientists, the Climate Change Studies Group at the University of the West Indies, and the Planning Institute of Jamaica, among others. The activity will also be an opportunity to examine the extensive work undertaken by UNESCO on the impacts of climate change on heritage.
Some 40 delegates from 12 Caribbean countries with existing World Heritage properties attended, including experts from countries such as Antigua and Barbuda, Cuba, Curacao, Dominica, Haiti, St. Lucia, St. Kitts and Nevis and Suriname, as well as Jamaican experts and decision-makers.
For further information please contact Mr. Yuri Peshkov, Culture Programme Specialist UNESCO Kingston Office (peshkov@unesco.org) 
Wednesday, 31 May 2017
1 min read