20th General Assembly of the World Heritage Convention adopts new policy on sustainable development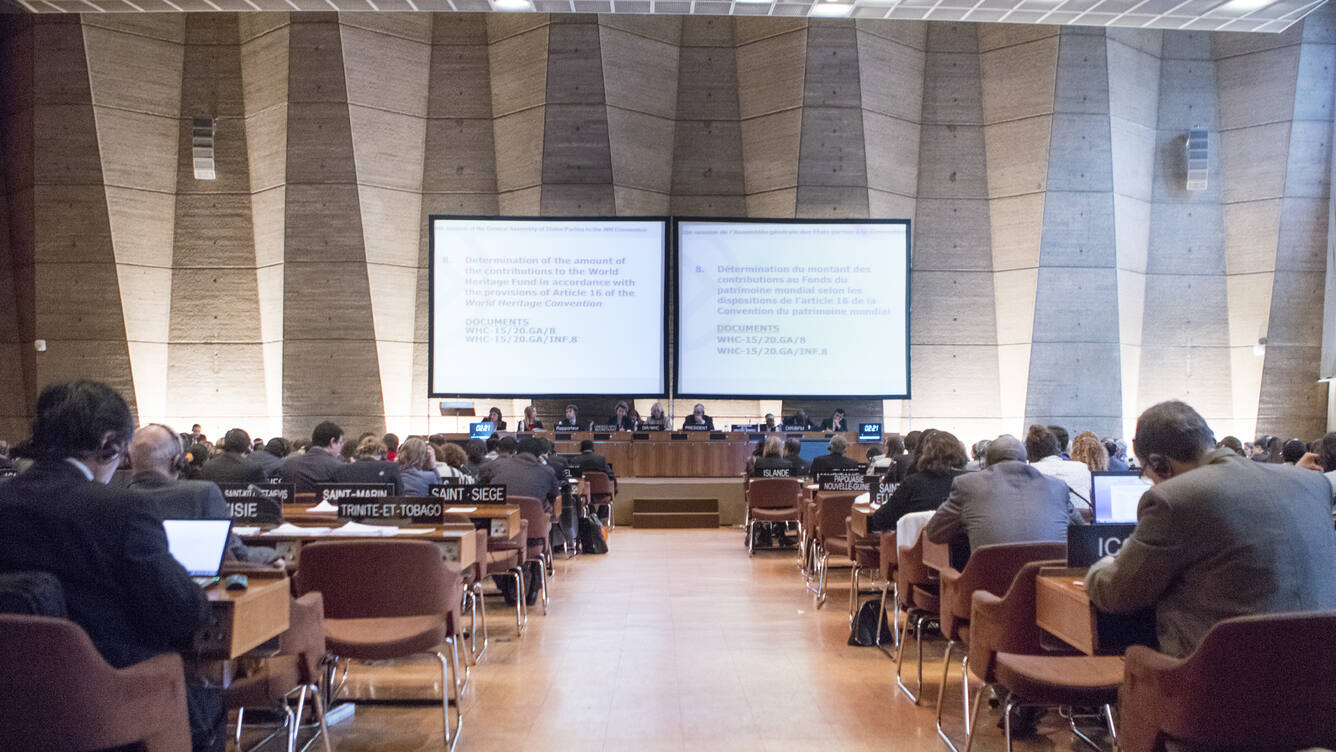 Monday, 23 November 2015
2 min read
On 19 November 2015, the 20th General Assembly of the States Parties to the World Heritage Convention adopted a Policy on the integration of a sustainable development perspective into the processes of the Convention.
The overall goal of the policy is to assist States Parties, practitioners, institutions, communities and networks, through appropriate guidance, to harness the potential of World Heritage properties and heritage in general, to contribute to sustainable development and therefore increase the effectiveness and relevance of the Convention whilst respecting its primary purpose and mandate of protecting the Outstanding Universal value of World Heritage properties. In line with the "2030 Agenda for Sustainable Development", adopted last September by the UN General Assembly, this new policy revolves around the three dimensions of sustainable development, namely environmental sustainability, inclusive social development and inclusive economic development, complemented by the fostering of peace and security. Its adoption represents a significant shift in the implementation of the Convention and an important step in its history.
Fundamental considerations such as the respect of human rights, gender equality, poverty alleviation, resilience, the rights of indigenous peoples and the reduction of the environmental footprint, among others, will be now integrated in conservation and management approaches and, hopefully, in the monitoring mechanisms of the Convention. Of particular significance is also the section of the policy which deals with peace and security, which is aimed to ensure that the nomination, inscription, interpretation and conservation of World Heritage sites contribute to promoting mutual understanding and to fostering dialogue. Through its provisions, therefore, the policy enhances the role of the World Heritage Convention as an integral part of UNESCO's mandate as enshrined in its two overarching objectives: contributing to lasting peace and to an equitable, sustainable development.
The process leading to the elaboration of a sustainable development policy, which extended over a period of several years and involved extensive consultations, reflected as well the will of States Parties to make the World Heritage Convention more relevant to the challenges of the 21st century, with a view to ensuring policy coherence with concurrent UN policy frameworks, existing international humanitarian standards and other multilateral environmental agreements (MEAs).
Following the adoption of the policy, relevant changes will have to be introduced within the Operational Guidelines for the Implementation of the World Heritage Convention, so as to translate its principles into actual procedures. The concrete implementation of the policy will no doubt require the building of necessary capacities among practitioners, institutions, concerned communities and networks, across a wide interdisciplinary and inter-sectorial spectrum. The necessary tools and programmes will therefore have to be developed, and appropriate indicators defined, to monitor progress in the implementation of the policy. Ongoing consultation with States Parties and other relevant stakeholders will be also established with a view to enriching the policy in the future.

The policy document can be downloaded below in English and French.