UNESCO to develop capacities of World Heritage site managers in Romania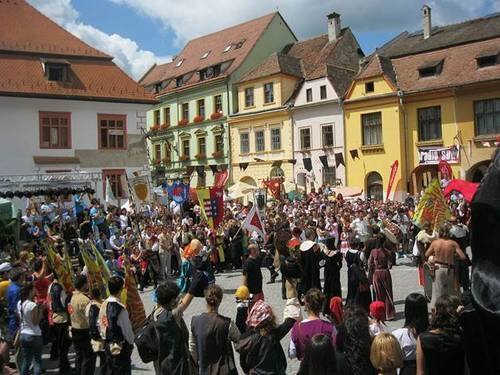 Monday, 28 September 2015
2 min read
Sustainable planning and management of tourism is one of the most pressing challenges facing the World Heritage Convention today and is the focus of the UNESCO World Heritage and Sustainable Tourism Programme. The workshop on "Protecting World Heritage: Disaster Risk Management and Sustainable Tourism Planning" in Romania will set the basis for the development of a value-based management approach that is attentive to the potential threats and challenges faced by World Heritage Sites in the country.
The meeting, jointly organized by the UNESCO Regional Bureau for Science and Culture in Europe, Venice (Italy), and the Ministry of Culture of Romania, is set to take place in Sighișoara from 30 September to 3 October 2015. It is made possible thanks to the financial support of the Government of Italy - Ministry of Foreign Affairs and International Cooperation to the UNESCO Venice Office.
World Heritage site managing authorities, particularly of sites in Romania, will take part in a combination of lectures and group exercises covering topics that range from risk identification and assessment to disaster risk preparedness, response and recovery as a first part of the workshop. Cross-cutting considerations will also be addressed, including the role of local communities and women and the potential of traditional knowledge for managing disaster risks. The World Heritage site of Sighisoara will serve as a concrete and interactive case study on Disaster Risk Management, with professional guidance provided by local managing staff. 
The second part of the workshop will focus on Sustainable Tourism Planning in a local context and adopt an interactive approach to discuss the main themes concerned. Participants will gain an overview of the online tools developed in the framework of the UNESCO Programme for World Heritage Site managers and other key stakeholders. The World Heritage site of Sighișoara will serve as a concrete an interactive case study on Sustainable Tourism, with professional guidance provided by local managing staff.
World Heritage Sites are increasingly affected by disasters and conflict situations throughout the world, resulting from a variety of underlying factors including natural hazards, climate change and political instability. The World Heritage Centre has developed a comprehensive strategy to deal with this kind of risk. At the same time, tourism has become an important cross-cutting issue and management concern at most World Heritage sites.
The UNESCO World Heritage and Sustainable Tourism Programme represents a new approach based on dialogue and stakeholder cooperation where planning for tourism and heritage management is integrated at a destination level, the natural and cultural assets are valued and protected, and appropriate tourism developed. It aims to catalyse positive change to protect and conserve the sites while enriching the lives of local communities and enhancing the experience of travellers.
Workshops such as this one provide stakeholders with the capacity and tools to manage tourism efficiently, responsibly and sustainably and to manage emerging risks. It helps them to gain a general understanding of the methodology developed by UNESCO for Disaster Risk Management and specific knowledge concerning Sustainable Tourism. Participants will be encouraged to further share the knowledge acquired during the workshop within their partner institutions and act as focal-points for possible follow-up activities.
Monday, 28 September 2015
2 min read