From Astronomy to Zanzibar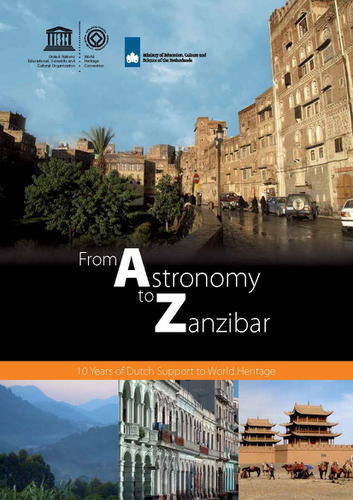 Since its inception in 2001, the Netherlands Funds-in-Trust (NFiT) at the World Heritage Centre has served the international heritage community as well as local communities in practically all regions of the world in pursuing the safeguarding and sustainable development of the World Heritage, both natural and cultural.
 The agreement between the Dutch Government and UNESCO has enabled a truly broad application of this facility to provide technical assistance to site authorities, organize expert meetings on theoretical issues pertaining to the 1972 World Heritage Convention, mobilize youth groups to engage in the conservation process, and to publish reports and proceedings of World Heritage-related conferences and symposia – hence the title of this report `From Astronomy to Zanzibar´. The report covers the period 2001-2010 (3 cycles of NFiT operation) and showcases several projects and their achievements, as well as a comprehensive list of projects supported under the NFiT. It will be distributed in the Netherlands during the 3rd edition of the Dutch World Heritage Weekend on 16 and 17 June 2012, as well as during the 36th session of the World Heritage Committee in St. Petersburg, Russia, from 24 June to 5 July 2012.
 Last April the Dutch Ministry of Education, Culture and Science of the Netherlands, which provides the funds, announced the approval of a fourth consecutive cycle that will run from 2013 to 2016.
Dates
Date Start: Friday, 15 June 2012
Date end: Friday, 15 June 2012