Development of Policy Document on Impacts of Climate Change and World Heritage (2006)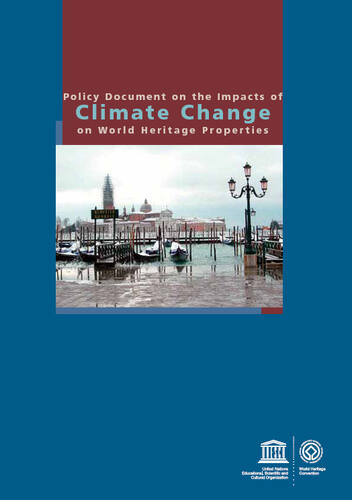 At its 30th session in July 2006, the World Heritage Committee endorsed the report on "Predicting and managing the impacts of Climate Change on World Heritage" and the "Strategy to assist States Parties to implement management responses", which were prepared following a meeting of experts in March 2006.
The World Heritage Centre is taking the following action on the different elements of the decision of the Committee:
The Strategy and Report (as endorsed by the Committee) is being assembled into a publication in the World Heritage Paper series. It will also be put on-line in that format on the website of WHC for wider dissemination.
A compilation of case-studies on the subject of "Climate Change and World Heritage" is also being prepared. Currently, the draft text has been sent to all those States Parties whose sites are proposed to be featured in the publication, for review and comments. Suitable photographs and other illustrations are being identified for inclusion in the publication.
A pilot project is being developed for accessing UNEP-GEF funds for vulnerability assessment and adaptation work in selected natural World Heritage sites of Indonesia.
One of the more substantive follow-up actions to be taken on the Committee's Decision 30 COM 7.1 is the preparation of a "Policy document" on the subject, in consultation with various stakeholders (see specifically paragraph 13 of the decision). For this purpose, a two day meeting of a small group of experts, practitioners and other relevant organisations and individuals is planned to be organized on 5 and 6 February 2007 in UNESCO Headquarters in Paris. The State Party of the Netherlands has kindly offered to support this meeting and associated process.
In preparation for the proposed meeting, a draft of the policy document, in consultation with relevant experts and organizations, is being developed. This draft will be discussed and finalised by the experts at the meeting; the new draft emanating from this meeting will again be sent out to a wider group for review, in keeping with the Committee's decision.
On the issue of synergies between conventions on this issue, UNEP's Issue-based Modules (IBM) Project is being researched to help prepare a section for the draft policy document. The Advisory Bodies will help in identifying future research needs in the area of climate change and World Heritage.