Historic Ensemble of the Potala Palace, Lhasa
China
Factors affecting the property in 2002*
Deliberate destruction of heritage
Housing
Major visitor accommodation and associated infrastructure
Management activities
Management systems/ management plan
Relative humidity
Ritual / spiritual / religious and associative uses
Water (rain/water table)
Factors* affecting the property identified in previous reports
Boundaries of the property
Pressures of urban development and Growth in tourism-related activities resulting in many construction activities
Reconstruction and/or demolition of historic structures and rebuilding with new material and design features
Deterioration of mural paintings due to humidity; use of lacquer varnish and excessive retouches
International Assistance: requests for the property until 2002
Requests approved: 0
Total amount approved : 0 USD
Missions to the property until 2002**
Conservation issues presented to the World Heritage Committee in 2002
Numerous independent reports were transmitted to UNESCO concerning continued incidents of demolition of the traditional historic buildings within the protective buffer zone of the Barkhor Historic Area, which is part of the World Heritage property. UNESCO received information that a new 13-storey concrete building is being constructed in the Public Security Bureau Compound in Lhasa, whose large scale disrupts the architectural skyline and traditional urban environment of the World Heritage protected areas, as it is visible from all central points of Lhasa.
On 2 May 2002, the Director of the World Heritage Centre requested the Chinese authorities to provide a full report on the state of conservation of this World Heritage property, including information on the development activities being carried out within the World Heritage core and buffer zones, as well as the areas immediately surrounding these protective zones.
Decisions adopted by the Committee in 2002
26 COM 21B.42
Historical Ensemble of the Potala Palace, Lhasa (China)
The World Heritage Committee,
1. Having examined the report on the state of conservation of this property and further information provided by the Centre;
2. Takes note of the additional information presented by the State Party;
3. Encourages the State Party to continue its efforts to rehabilitate and enhance the state of conservation of this World Heritage property;
4. Expresses its appreciation to the State Party for welcoming the proposal for a joint UNESCO-ICOMOS reactive monitoring mission to examine the state of conservation of the property and to undertake consultations with the site management authorities;
5. Requests that a joint UNESCO-ICOMOS reactive monitoring mission with this mandate be organized before the 27th session of the Committee;
6. Decides to examine the findings and recommendations of this mission at its 27th session in June/July 2003.
The Committee may wish to examine further information at the time of its session and take a decision thereupon.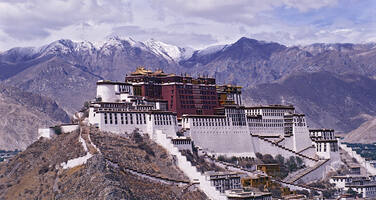 China
Date of Inscription:
1994
Category: Cultural

Criteria: (i)(iv)(vi)

Documents examined by the Committee
26COM (2002)
Exports
---
* : The threats indicated are listed in alphabetical order; their order does not constitute a classification according to the importance of their impact on the property.
Furthermore, they are presented irrespective of the type of threat faced by the property, i.e. with specific and proven imminent danger ("ascertained danger") or with threats which could have deleterious effects on the property's Outstanding Universal Value ("potential danger").
** : All mission reports are not always available electronically.