Marine World Heritage: The Crown Jewels of the Ocean event calls for support of marine sites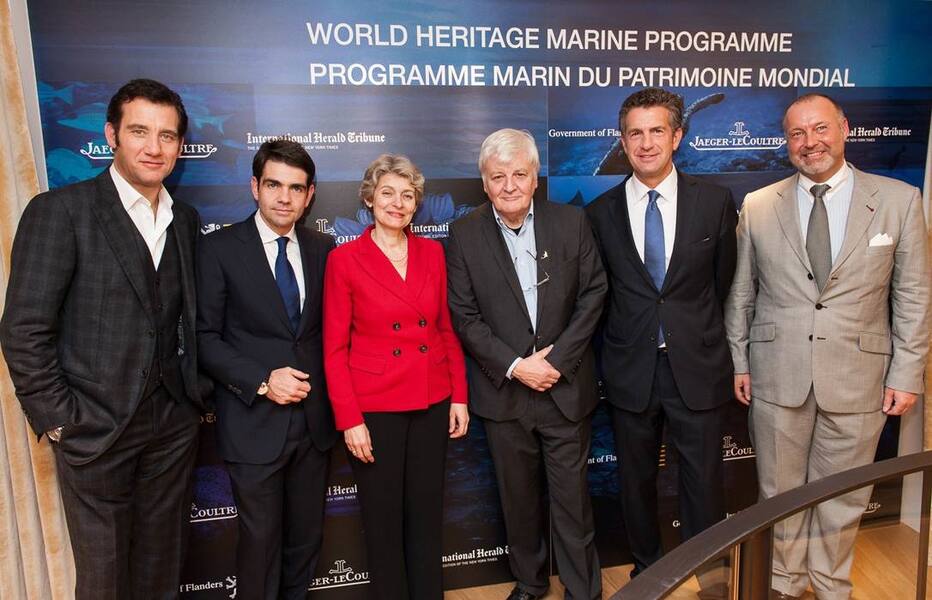 Friday, 8 February 2013
2 min read
On 7 February, international film stars Clive Owen and Jacques Perrin gave their support to Marine World Heritage: The Crown Jewels of the Ocean, at a special event dedicated to marine site preservation at UNESCO Headquarters in Paris. A short film on marine sites, narrated by Mr Perrin, was also shown.
The event presented a 10-year strategy to protect the Crown Jewels of the Ocean, supported by the Government of Flanders (Belgium), and celebrated the achievements of the innovative Tides of Time partnership established in 2010 between UNESCO's World Heritage Centre, leading Swiss fine watchmaking manufacturer Jaeger-LeCoultre, and the International Herald Tribune newspaper for the benefit of marine World Heritage preservation.
UNESCO Director-General Irina Bokova opened the event. In her speech, she referred to the 46 marine World Heritage sites: "Covering a fourth of all Marine Protected Areas, these sites are uniquely positioned to spearhead advances in marine management and contribute to enhancing the sustainability of the ocean, which is UNESCO's objective," she said.
UNESCO's World Heritage Marine Programme is seeking to make these sites drivers for change in ocean conservation globally; but much remains to be done to bring up to speed the capacities of the managers of these sites and to ensure that the wide range of ocean ecosystems is fully represented on the World Heritage List. The Marine Programme is a priority programme for the World Heritage Committee.
Mr Perrin also gave a keynote address about marine heritage and the important issues at stake. Other speakers during the evening included Jérôme Lambert, CEO Jaeger-LeCoultre; Stephen Dunbar-Johnson, Publisher of the International Herald Tribune; Nic Vandermarliere, Representative of Flanders to UNESCO; and Clive Owen.
The Government of Flanders and the Tides of Time partnership have provided more than USD 3 million to date to help States and site managers face the growing challenges of pollution largely posed by coastal development, habitat destruction as well as maritime transportation.  This work is carried out under the coordination of UNESCO's World Heritage Centre.
The event at UNESCO Headquarters was followed by an evening cocktail held at the Jaeger-LeCoultre Boutique on the Place Vendôme in Paris.