Towards a strategic Action Plan for Latin America and the Caribbean World Heritage properties: Meetings of site managers and national Focal Points
Thursday, 16 February 2023
2 min read
The UNESCO World Heritage Centre held two workshops with World Heritage site managers and national Focal Points in Latin America and the Caribbean to prepare a Regional Action Plan for the Third Cycle of Periodic Reporting.
Periodic Reporting is one of the core conservation and monitoring mechanisms of the Lazare Eloundou Assomo, Director of UNESCO World Heritage, praised the commitment of national Focal Points and site managers, noting that the region had achieved nearly a 100% completion rate for the online questionnaire. He said that "along with credibility, conservation, capacity-building communication and communities, the 5 "Cs" of the World Heritage Convention, there is increasing focus on climate change, sustainable development, and risk management".  He also noted that beyond the framework of the Convention, the reporting exercise will also nourish the Culture Action Plan that UNESCO will produce in 2025, as a follow up to the Mondiacult Conference which took place last September in Mexico City.
In the first workshop on 10 February 2023, over 150 World Heritage site managers and experts from Latin America and the Caribbean discussed challenges associated with the management of buffer zones, and the effects of climate change, natural hazards, and the Covid-19 pandemic, which caused a severe drop in visits to World Heritage sites during the reporting period.  In view of the draft Action Plan for the region, the site managers emphasised the importance of strengthening intercultural realities including reinforcing legal frameworks of sites to support communities and indigenous peoples, improving monitoring of buffer zones and wider settings through capacity-building and use of impact assessment tools, and fostering greater synergies with other conventions and programmes.
The second workshop, held on 15 and 16 February, brought together national Focal Points who are responsible for reporting on implementation of the World Heritage Convention at the State Party level. They highlighted that national governments are the primary actors providing resources to support heritage conservation in the region and that site management and threats to World Heritage properties including climate change and tourism are among the factors with the highest impact on conservation.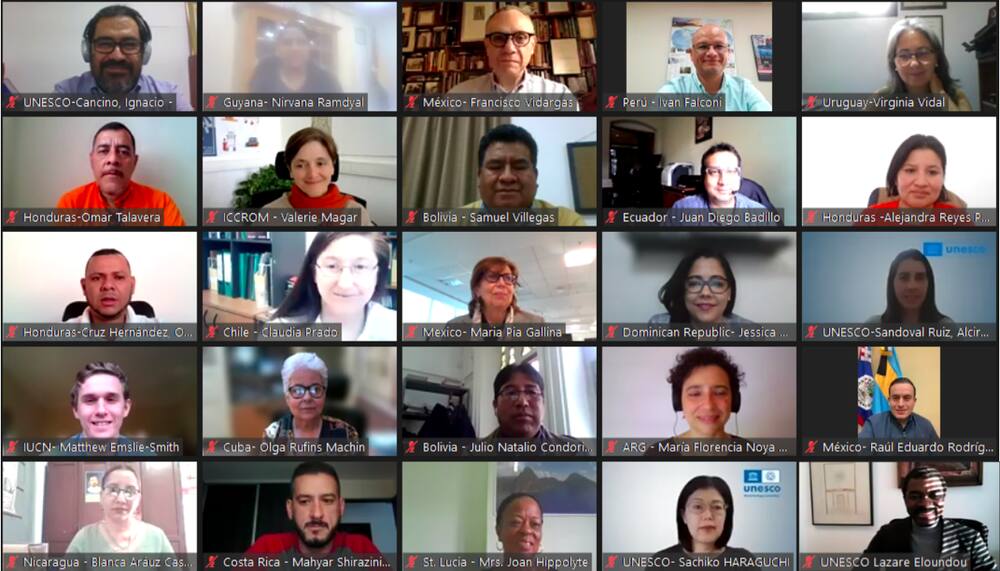 In both meetings, the Advisory Bodies to the World Heritage Committee, including ICCROM, ICOMOS, and IUCN, reaffirmed their engagement in accompanying the site managers and national Focal Points on strategic capacity-building activities, including the preparation of several manuals, guidelines, and tools and targeted technical assistance.
In relation to the Caribbean, we have found that it comes back to the issue of capacity building and the need to build an awareness and an interest in World Heritage matters. The fact that UNESCO has started a pilot project among a few islands on building resilience on cultural heritage is a beginning.
The outcomes of these meetings will significantly contribute to the report on the Third Cycle of Periodic Reporting and the draft Action Plan for Latin America and the Caribbean. These documents will be examined by the World Heritage Committee during its upcoming extended 45th session in Riyadh, Saudi Arabia, in September.