WHITRAP Shanghai issues the Summary Report of "The Future of Small Settlements in China and the World Heritage Convention workshop"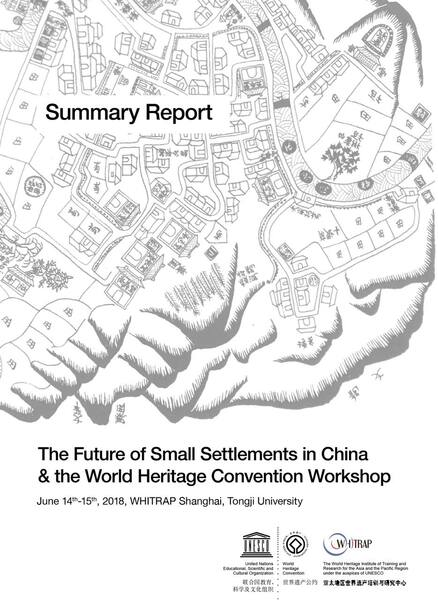 Monday, 30 July 2018
2 min read
In the part years, interest in rural areas, small settlements, and the fine-tuned interaction between humankind and its natural environment, has exponentially grown in China and all around the world.The critical role played by villages, small towns, and their vast surrounding environment is gaining global acknowledgment as a complementary counterpart to growing cities. However, today these territories are undergoing dramatic transformations.
WHITRAP Shanghai, Category II Centre, organized a scientific workshop  "The Future of Small Settlements in China and the World Heritage Convention workshop" on 14 to 15 June 2018.
This event took place in the framework of the research on small settlements in China and the Asia Region that WHITRAP has been developing since February 2017. Through this research, WHITRAP carries out its mandate to support UNESCO in advocating the role of culture as a driver for sustainable development and revising development paradigms. The workshop was an opportunity for the Institute to present its findings to researchers and institutions active in the field, and to discuss the research's approach and expected outcome.
Seventeen national and international experts from different professional and academic fields (heritage studies, architecture, anthropology, eco-museum specialist, law, urban planning, nature-based tourism, agronomy, sociology, etc.) attended the meeting. This research and the debates concerned rural and urban settlements as well as their agricultural territories. Discussions focused on material and intangible heritage, perpetuated through the conservation or maintenance of practices and through museums and interpretation centers to enhance and transmit knowledge and know-hows on the verge of oblivion. Speakers discussed in what way local communities rooted in a specific territory could provide sustainable practices and ideas to inform the larger national society. The workshop allowed to develop a network of experts and scholars around WHITRAP's initiatives and researches. More information on the workshop and the Summary Report are available at: www.whitr-ap.org
The workshop was curated by Ms. Marie-Noël Tournoux, WHITRAP Project Director, and Dr. Anna-Paola Pola, Director of Urban Planning in charge of the researcher, with the coordination of Ms. Lu Wei, Executive-Deputy Director and the logistic support of Ms. Zhou Jiyun, Administrative Assistant.
---
Contact: WHITRAP, Anna-Paola Pola, ap.pola@whitr-ap.org
Monday, 30 July 2018
2 min read