UN On-line Volunteers and World Heritage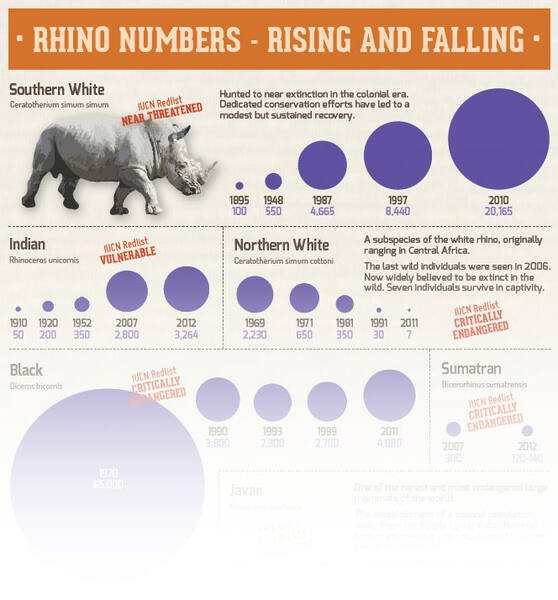 Wednesday, 5 June 2013
2 min read
With almost a thousand sites inscribed on the World Heritage List, the reach of the World Heritage Convention is vast. To better present one important issue and the work that's being done to make a difference, UNESCO has produced an infographic on rhinoceros conservation. This attractive, easy to follow poster describes the plight of several rhinoceros species in Africa and Asia, and how World Heritage sites play a critical role in helping them avoid extinction.
Putting together an infographic requires the coordinated input of not only people knowledgeable about rhinoceros conservation and World Heritage sites, but also of a talented graphic artist.  In this case, Paris-based UNESCO staff turned to the United Nations On-line Volunteers web site (www.onlinevolunteering.org) and placed a call for just such a person. Suzie Watt generously responded to the call, and with the information and ideas fed to her by her UNESCO counterpart, she gradually assembled the attractive and compelling "The Last Rhinos" infographic in her studio in Sydney, Australia. When asked what motivated her to help, Suzie responded: "I had been looking for a semi-regular volunteer opportunity for about a year - specifically a skills-based opportunity.  In that search I came across the UNV website, and discovered there was a need for volunteers with design/editing skills. Having travelled pretty extensively, I was inspired by the chance to lend my skills to projects around the globe." 
"While I can't afford to donate money to many of the causes I would like to assist, being able to contribute in terms of my design skills is, for me, a rewarding and interesting way to maximise my positive social and environmental impacts," said Suzie.
"The Last Rhinos" infographic was produced with the help of 12 UN Online Volunteers – Suzie Watt as the graphic designer, and 11 others who translated the original English language text into 11 other languages, including those of the rhinoceros host countries in question (Swahili, Hindi, Assamese, Nepali and Bahasa Indonesia), the usual UN languages (French, Spanish, Arabic, Russian and Chinese) and in Vietnamese, were the market for rhinoceros horns is most vigorous these days. UNESCO's World Heritage Centre uses the UN Online Volunteers regularly to help them translate short documents, to do research and to prepare presentations.  One work in progress is focusing on identifying the cat species found in different World Heritage sites and how some of the most endangered survive almost exclusively there.  Five UN Online volunteers from around the world are involved, and an infographic on this story is in the pipeline. 
"UN Online Volunteers are making a real difference"
"UN Online Volunteers are making a real difference," explains Kishore Rao, Director of the UNESCO World Heritage Centre. "In times of cutbacks everywhere, it's a real pleasure to know that so many people out there continue to believe in the UN mission, and are willing to contribute their own time and expertise." The World Heritage Centre has benefited from the help of over 100 UN Volunteers over the past three years. This growing cooperation is a positive contribution to the conservation of the world's most outstanding natural and cultural treasures.

Wednesday, 5 June 2013
2 min read