Enhancing Our Heritage - Monitoring and Managing for Success in World Natural Heritage Sites was a seven-year UNESCO/IUCN project funded by the United Nations Foundation. The project commenced in 2001 and operated in nine World Heritage sites in Africa, South Asia and Latin America that have all been recognized for their biodiversity values.
The specific aim of the project was to demonstrate how using an assessment, monitoring and reporting framework can enhance effective management of World Heritage sites. By the end of the project, the nine demonstration were to have:
an established assessment, monitoring and reporting program for evaluating management effectiveness and the state of conservation of World Heritage values;
site managers and others trained in the application of assessment and monitoring techniques;
established or improved communication and co-operation between site managers, local communities and NGOs, regional training institutions and other key experts and stakeholders that will provide a solid basis for continuation of assessment and monitoring work beyond the life of the project;
improved management in areas of identified deficiency resulting from training programs and small-scale support provided through the project;
integration of assessment and monitoring practices into the general process of management; and
project proposals prepared and funding sought for large-scale projects required to address identified deficiencies.
Based on the results of the project, recommendations were provided to the World Heritage Committee on a consistent approach to assessment, monitoring and reporting on the state of conservation and management effectiveness of World Heritage sites that could be applied to World Heritage sites on an on-going basis.
The project was built around the application of the IUCN World Commission on Protected Areas (WCPA) framework for assessing management effectiveness of protected areas.
Enhancing Our Heritage Toolkit for Protected Area Managers
The final output of the project was the completed "Enhancing our Heritage Toolkit", available in PDF format as the World Heritage Paper #23.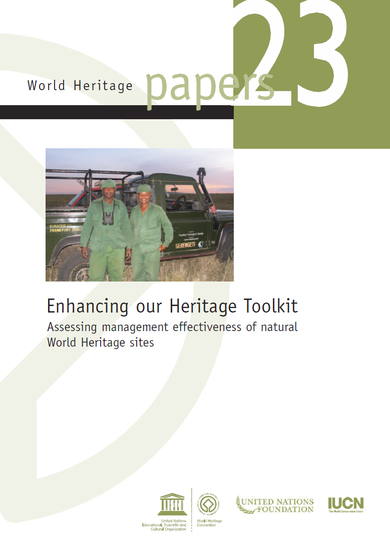 ---
The documents listed below consist of the collection of assessments carried out by the nine World Heritage sites that participated in the development of the Toolkit, along with other related publications.  These are a good source of case studies and examples for other World Heritage site, and protected area managers wishing to apply the Enhancing our Hertiage methodology in carrying out their own management effectivess assessments.