World Heritage and wind energy planning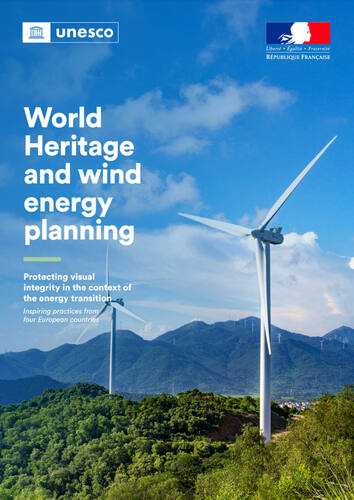 Protecting visual integrity in the context of the energy transition. Inspiring practices from four European countries.
This study presents examples from four European countries and shows how they deal with wind energy development in relation to protecting the visual integrity of World Heritage properties.
Whereas this document's initial focus lay exclusively on heritage impact assessments for particular World Heritage properties, it soon became evident that the framing policies and guidance provided by the States Parties were vital to a full understanding of each Heritage Impact Assessment (HIA) example. The solutions and tools implemented in the various countries are diverse and offer a wealth of material from which to take lessons and deduce good practices and useful approaches to share internationally. Each case contributes in its own way to the inspiring practices and lessons learned.
The actual case studies are preceded by contributions from the French Ministry and UNESCO elaborating the challenges at play in the discussion on World Heritage protection and the energy transition and key factors such as HIAs and the concept of OUV (Chapter 2). The Berlin- based KNE supplements these views with information on experience from a moderated stakeholder dialogue on the matter as means to avoid and resolve conflicts in Germany. Finally, a description of the current international reference framework draws from international efforts to develop and improve tools and policies (Chapter 3). Recent activities attest to intensive discussions around the tools for dealing with OUV and its evaluation in view of global changes, dynamic developments, and local disruptions.
Chapter 4 gives the country cases in alphabetical order according to their English names: Austria, France, Germany and the United Kingdom with a focus on Scotland. Each country case begins with an overview of the national and local goals for renewables, and in particular wind energy. The 'policy highlights' section covers aspects of the regulatory or guidance frameworks for the World Heritage property. They offer a great deal of potential to identify approaches we can learn from, and share the lessons learned and good practices. The heritage impact assessments – or rather preparatory assessment studies – are presented in a table with different categories to allow comparison, despite the different types and objectives of each document. These may also offer recommendations and give technical and methodological details of what may work best in different contexts. Each case concludes with a set of lessons learned and recommendations on the policy and guidance framework as well as the development of preparatory heritage studies for reproducing in other contexts.
This study closes with a set of lessons and good practices. These focus on recurring, overarching matters, and include the importance of a clear and well-documented definition of the OUV and its attributes, participation and consultation processes, public outreach, and the challenges of visualizations (Chapter 5). In conclusion, this document compiles information as a basis for further exchanges and debate, rather than offering a final list of best practices, recommendations, and must-dos. It aims to share ways to facilitate processes and enhance cooperation between the numerous stakeholders, across borders, for high-quality development of wind energy and the energy transition with respect to World Heritage and the cultural, historical and natural environment.
Dates
Date Start: Tuesday, 16 November 2021