Memphis and its Necropolis – the Pyramid Fields from Giza to Dahshur
Egypt
Factors affecting the property in 1993*
Housing
Impacts of tourism / visitor / recreation
Other Threats:

Deterioration of the stones
Factors* affecting the property identified in previous reports
Housing
Impacts of tourism 
Deterioration of the stones 
International Assistance: requests for the property until 1993
Requests approved: 3 (from 1991-1993)
Total amount approved : 68,000 USD
Missions to the property until 1993**
Information presented to the Bureau of the World Heritage Committee in 1993
A staff member of the Centre visited this site, together with two consultants who are assigned to prepare a site management plan with partial financial support from the World Heritage Fund. The mission team included the Director of Archaeology, Egyptian Antiquities Organization (EAO). Proposals to divert vehicular traffic - mostly tourist buses - within this World Heritage site were reviewed and were acceptable to the EAO. Architects from the Faculty of Engineering, Cairo University, are designing a ring road around the plateau to which all traffic will eventually be channelled. No vehicles will be permitted to enter the site. Visitation rates to the Kefren Pyramid (the second pyramid) were more extensive than in the case of other Pyramids. Physical conditions in the vicinity of the Kefren Pyramid are deteriorating rapidly. Stones are disintegrating and in certain parts have been reduced to rubble. It appears that the blocks of stone used for its construction came from a quarry different from that exploited for obtaining stones for the other two pyramids, which are in better condition. The President of the EAO requested UNESCO to draw up a conservation program for the Kefren Pyramid and the consultants have accordingly drafted the terms of reference for a large-scale project, to develop such a conservation program; the project will need to be funded from extra-budgetary sources.
It is preferable to suggest to the EAO to convene a meeting of specialists in stone conservation to examine the state of conservation of the Kefren Pyramid and others included in the World Heritage site (including the Sakkara Pyramids which are also in an advanced state of decay). 
Action Required
The Bureau may wish to recommend that the Egyptian authorities convene such a meeting of specialists in stone conservation.
Decisions adopted by the Committee in 1993
17 BUR VIII.2
Pyramid Fields from Giza to Dahshur (Egypt)
The Bureau took note of the report on the poor state of conservation of the Kefren Pyramid and endorsed the Centre's recommendation that the Egyptian Antiquities Organization be approached with a view to convening a meeting of specialists in stone conservation in co­operation with ICRROM to examine the state of conservation of this and other pyramids at this World Heritage site.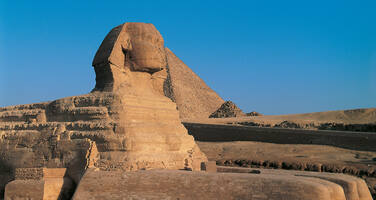 Egypt
Date of Inscription:
1979
Category: Cultural

Criteria: (i)(iii)(vi)

Documents examined by the Committee
17COM (1993)
Exports
---
* : The threats indicated are listed in alphabetical order; their order does not constitute a classification according to the importance of their impact on the property.
Furthermore, they are presented irrespective of the type of threat faced by the property, i.e. with specific and proven imminent danger ("ascertained danger") or with threats which could have deleterious effects on the property's Outstanding Universal Value ("potential danger").
** : All mission reports are not always available electronically.