Angkor
Cambodia
Factors affecting the property in 2002*
Human resources
Illegal activities
Legal framework
Management systems/ management plan
Other Threats:

Urgent problems of conservation
Factors* affecting the property identified in previous reports
Inadequate protective legislation;
Inadequately staffed national protection agency;
No permanent boundaries established and defined buffer zones;
Need for monitoring and coordination of the international conservation effort
International Assistance: requests for the property until 2002
Requests approved: 4 (from 1992-1998)
Total amount approved : 113,595 USD
Missions to the property until 2002**
September 1997: legal expert mission
Conservation issues presented to the World Heritage Committee in 2002
At the time of preparation of this working document, no new information had been received by the World Heritage Centre. An oral report will be presented during the Committee session.
Summary of the interventions
Decisions adopted by the Committee in 2002
26 COM 21A.10
Angkor (Cambodia)
The World Heritage Committee,
1. Notes with appreciation the recent return of the two Angkor sculptures from the Academy of Fine Arts of Honolulu to the National Museum of Phnom Penh;
2. Notes that support has been provided to the International Co-ordination Committee for the Safeguarding and Development of Angkor (ICC) by new partners (Switzerland and India) and expresses appreciation for the support of the Municipality of Paris to strengthen the Documentation Centre;
3. Urges the State Party to make available to its 27th session in June/July 2003, within the framework of the Periodic Reporting Exercise for the Asia-Pacific Region, a report with technical details on all activities carried out over the past ten years; 
4. Decides to retain the site on the List of World Heritage in Danger.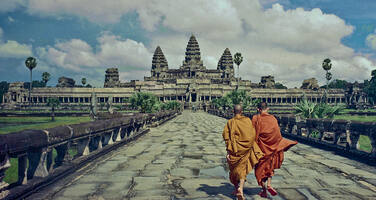 Cambodia
Date of Inscription:
1992
Category: Cultural

Criteria: (i)(ii)(iii)(iv)

Danger List (dates): 1992-2004
Documents examined by the Committee
26COM (2002)
Exports
---
* : The threats indicated are listed in alphabetical order; their order does not constitute a classification according to the importance of their impact on the property.
Furthermore, they are presented irrespective of the type of threat faced by the property, i.e. with specific and proven imminent danger ("ascertained danger") or with threats which could have deleterious effects on the property's Outstanding Universal Value ("potential danger").
** : All mission reports are not always available electronically.