Pirin National Park
Bulgaria
Factors affecting the property in 2000*
Impacts of tourism / visitor / recreation
Factors* affecting the property identified in previous reports
Development of a hotel and a ski resort (issue resolved)
Project proposal envisaging the enlargement of the existing ski-zone within the World Heritage site
International Assistance: requests for the property until 2000
Requests approved: 0
Total amount approved : 0 USD
Missions to the property until 2000**
Conservation issues presented to the World Heritage Committee in 2000
IUCN has received a report claiming that a project proposal has been developed which envisages a three fold enlargement of the existing ski-zone within the World Heritage site. It is understood that this proposal has been approved by the relevant government agencies but that, following pressure from nature conservation NGOs, the area of the proposed enlargement of the ski-zone has been reduced and is envisaged as a two fold enlargement of the existing site. IUCN has also received reports that the proposal will lead to the clear cutting of significant areas of old growth forest; that populations of animal and plant species in the area may be threatened, including species on the IUCN Red List and the Berne Convention; and that the new ski runs will have a very negative overall effect on the landscape of the largest valley in the Park.
Decisions adopted by the Committee in 2000
24 COM VIII.iii
State of conservation reports of natural properties noted by the Committee
State of conservation reports of natural properties noted by the Committee
Belovezhskaya Pushcha/Bialowieza Forest (Belarus/Poland)
Pirin National Park (Bulgaria)
Dja Faunal Reserve (Cameroon)
Gros Morne National Park (Canada)
Canadian Rocky Mountains Parks (Canada)
Comoe National Park (Côte d'Ivoire)
Galapagos Islands (Ecuador)
Komodo National Park (Indonesia)
Lorenz National Park (Indonesia)
Mount Kenya National Park/Natural Forest (Kenya)
Te Wahipounamu - South West New Zealand (New Zealand)
Arabian Oryx Sanctuary (Oman)
Huascarán National Park (Peru)
Danube Delta (Romania)
Lake Baikal (Russian Federation)
Niokolo-Koba National Park (Senegal)
Doñana National Park (Spain)
Sinharaja Forest Reserve (Sri Lanka)
Bwindi Impenetrable Forest (Uganda)
Gough Island (United Kingdom)
Ngorongoro Conservation Area and the Serengeti National Park (United Republic of Tanzania)
Ha Long Bay (Vietnam)
Mosi-oa-Tunya/Victoria Falls (Zambia/Zimbabwe)
The Bureau may wish to adopt the following decision and transmit it to the Committee for noting:
"The Bureau requests the State Party to provide a report on this development as well as on the legal status of the existing ski zone within the World Heritage site in time for the twenty-fifth session of the Bureau".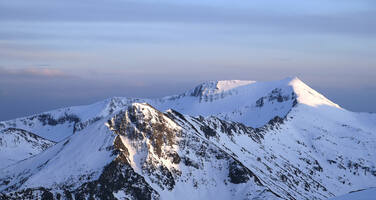 Bulgaria
Date of Inscription:
1983
Category: Natural

Criteria: (vii)(viii)(ix)

Documents examined by the Committee
24COM (2000)
Exports
---
* : The threats indicated are listed in alphabetical order; their order does not constitute a classification according to the importance of their impact on the property.
Furthermore, they are presented irrespective of the type of threat faced by the property, i.e. with specific and proven imminent danger ("ascertained danger") or with threats which could have deleterious effects on the property's Outstanding Universal Value ("potential danger").
** : All mission reports are not always available electronically.