Chitwan National Park
Nepal
Factors affecting the property in 1998*
Ground water pollution
Solid waste
Other Threats:

Increase in the natural rate of mortality of the rhinoceros
Factors* affecting the property identified in previous reports
Proposed irrigation project to divert the Rapti river (issue resolved)
Poaching (issue resolved)
Outdated Management plan (issue resolved)
International Assistance: requests for the property until 1998
Requests approved: 2 (from 1988-1989)
Total amount approved : 80,000 USD
Missions to the property until 1998**
Conservation issues presented to the World Heritage Committee in 1998
At its twenty-first session, the Bureau noted this site's success in conserving the great one-homed rhinoceros. The Park celebrated its 25th year anniversary in 1998. However, the management of the 'Park is faced with problems of pollution of the Narayani River due to industrial sewage discharged into that River by private enterprises located outside the Park. An increase in the natural rate of mortality of the rhinoceros in 1998 remains unexplained and is perhaps attributable to the possibility that the population consists of a considerable number of older individuals. The National Parks and Wildlife Conservation Act has been recently amended to ensure that 30-50% of the tourism revenues from the Park are used for development projects benefiting local communities. The Bureau was informed of the interest of the Department of National Parks and Wildlife Conservation of Nepal to use the large volume of scientific data available on ecological and managerial aspects of Royal Chitwan for setting up a systematic monitoring regime for the Park.

The Bureau recommended that the Centre and IUCN co-operate with the State Party to design and implement international assistance projects for mitigating the impacts of the pollution of the Narayani River. The Bureau urged the Centre and IUCN-Nepal to co-operate with the Department of National Parks and Wildlife Conservation to establish a systematic monitoring scheme for tracking long-term changes in the ecology, and the management regime of Royal Chitwan 
Decisions adopted by the Committee in 1998
22 COM VII.27
Reports on the State of Conservation of Natural Properties Noted by the Committee
VII.27 The Committee noted the decisions of the twenty-second extraordinary session of the Bureau as reflected in the Report of the Bureau session (Working Document WHC-98/CONF.203/5) and included in Annex IV on the following properties:
Heard and McDonald Islands (Australia)
Shark Bay, Western Australia (Australia)
Wet Tropics of Queensland (Australia)
Belovezhskaya Pushcha/Bialowieza Forest (Belarus/Poland)
Iguacu National Park (Brazil)
Dja Faunal Reserve (Cameroon)
Canadian Rocky Mountain Parks (Canada)
Jiuzhaigou Valley Scenic and Historic Interest Area (China)
Huanglong Scenic and Historic Interest Area (China)
Wulingyuan Scenic and Historic Interest Area (China)
Los Katios National Park (Colombia)
Morne Trois Pitons National Park (Dominica)
Nanda Devi National Park (India)
Whale Sanctuary of El Viscaino (Mexico)
Royal Chitwan National Park (Nepal)
Sagarmatha National Park (Nepal)
Arabian Oryx Sanctuary (Oman)
Huascaran National Park (Peru)
The Committee noted that the Bureau's decision reflected the suggestion to establish an informal contact group on mining and World Heritage and that the IUCN "Draft Policy on Mining and Protected Areas" will be circulated.
Kamchatka Volcanoes (Russian Federation)
Virgin Komi Forests (Russian Federation)
Skocjan Caves (Slovenia)
Thung Yai-Huay Kha Khaeng Wildlife Sanctuaries (Thailand)
St. Kilda (United Kingdom)
Ha Long Bay (Vietnam)
Durmitor National Park (Federal Republic of Yugoslavia)
The Committee noted the UN official name for the State Party: Federal Republic of Yugoslavia.
Mosi-oa-Tunya/Victoria Falls (Zambia/Zimbabwe)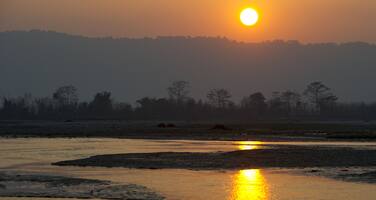 Nepal
Date of Inscription:
1984
Category: Natural

Criteria: (vii)(ix)(x)

Documents examined by the Committee
22COM (1998)
Exports
---
* : The threats indicated are listed in alphabetical order; their order does not constitute a classification according to the importance of their impact on the property.
Furthermore, they are presented irrespective of the type of threat faced by the property, i.e. with specific and proven imminent danger ("ascertained danger") or with threats which could have deleterious effects on the property's Outstanding Universal Value ("potential danger").
** : All mission reports are not always available electronically.