Sangay National Park
Ecuador
Factors affecting the property in 1991*
Ground transport infrastructure
Identity, social cohesion, changes in local population and community
Management systems/ management plan
Factors* affecting the property identified in previous reports
Proposed reduction of the boundaries; Colonization pressure
International Assistance: requests for the property until 1991
Requests approved: 1 (from 1985-1985)
Total amount approved : 30,000 USD
Missions to the property until 1991**
March 1989: IUCN
Conservation issues presented to the World Heritage Committee in 1991
In August 1991, IUCN informed the Secretariat of a proposal for a road construction project in this site and requested the Secretariat to obtain information on the proposal from the Ecuadorean authorities. The Secretariat transmitted the information provided by IUCN to the Ecuadorean authorities by letter of 21 August 1991. In a reply dated 17 October 1991 the Ecuadorean authorities informed the Secretariat that:
a) there is a proposal to construct a road, 8 km of which would traverse the extreme south of the Park;
b) no environmental impact study of this road construction project has so far been undertaken, and
c) the Sub-Secretariat on Forestry, Natural Resources and the Management of Natural Heritage and Protected Areas of the Ministry of Agriculture and Livestock has requested the Ministry of Public Works to halt all construction activities until such time as the necessary impact studies have been completed. The letter from the Ecuadorean authorities has been transmitted to IUCN.
Decisions adopted by the Committee in 1991
15 COM VIII
SOC: Sangay National Park (Ecuador)
Sangay National Park (Ecuador)
The Committee was satisfied to note that the Secretariat, based upon the information provided by IUCN, had sought clarification on the construction of an eight-kilometre highway through this Park. The Committee was pleased to note that the Sub-Secretariat of Forestry and Natural Resources in Ecuador had been able to halt the construction of this road until environmental impact studies are completed. The Committee complimented the Ecuadorean authorities for taking timely action and requested the Secretariat to remind them of the. possibilities for obtaining technical assistance for the Park from the World Heritage Fund.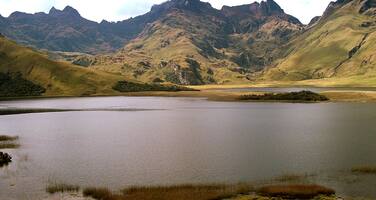 Ecuador
Date of Inscription:
1983
Category: Natural

Criteria: (vii)(viii)(ix)(x)

Danger List (dates): 1992-2005
Documents examined by the Committee
15COM (1991)
Exports
---
* : The threats indicated are listed in alphabetical order; their order does not constitute a classification according to the importance of their impact on the property.
Furthermore, they are presented irrespective of the type of threat faced by the property, i.e. with specific and proven imminent danger ("ascertained danger") or with threats which could have deleterious effects on the property's Outstanding Universal Value ("potential danger").
** : All mission reports are not always available electronically.