Tipasa
Algeria
Factors affecting the property in 2001*
Management systems/ management plan
Factors* affecting the property identified in previous reports
Earthquake (issue resolved)
International Assistance: requests for the property until 2001
Requests approved: 6 (from 1989-2001)
Total amount approved : 75,900 USD
Missions to the property until 2001**
July 1989: UNESCO expert mission; December 1989: UNESCO mission; March-April 1990: expert mission; October 1992: expert mission
Conservation issues presented to the World Heritage Committee in 2001
During the mission for the revision of the Periodic Reports for Algeria, the site of Tipasa was visited and the situation was reviewed with the Algerian authorities. No change had been noted in respect to the request for emergency assistance approved by the Bureau in June 2001. It was agreed that the expert mission foreseen in the framework of that request be undertaken at end-October or during November 2001.
Also, the authorities informed the mission of the existence of a PSPP (Permanent Safeguarding and Presentation Plan) elaborated in 1992 with the Urbanism Workshop of the City of Marseilles and UNESCO. This plan, which could have regulated and improved the situation of the site of Tipasa, although approved by the authorities, had not, to date, been implemented.
Decisions adopted by the Committee in 2001
25 BUR VII.36
Requests for International Assistance - Emergency Assistance - Cultural - Algeria
(iv) Emergency Assistance
Cultural
Algeria - "Elaboration of an emergency plan and implementation of corrective measures for the Archaeological site of Tipasa"
VII.36 The Bureau approved this request for an amount of US$ 35,500 on an exceptional basis as Emergency Assistance.
The Bureau may wish to adopt the following text :
"The Bureau recommends to the Algerian authorities to implement without delay the 1992 Permanent Safeguarding and Presentation Plan, to reduce the pressures on the site. Furthermore, the Algerian authorities are requested to keep the World Heritage Centre fully informed for all projects concerning the site of Tipasa, and submit studies for approval prior to their implementation. "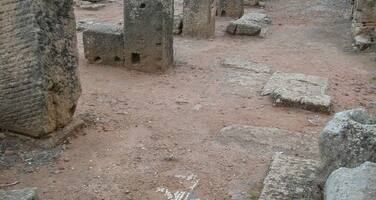 Algeria
Date of Inscription:
1982
Category: Cultural

Criteria: (iii)(iv)

Danger List (dates): 2002-2006
Documents examined by the Committee
25COM (2001)
Exports
---
* : The threats indicated are listed in alphabetical order; their order does not constitute a classification according to the importance of their impact on the property.
Furthermore, they are presented irrespective of the type of threat faced by the property, i.e. with specific and proven imminent danger ("ascertained danger") or with threats which could have deleterious effects on the property's Outstanding Universal Value ("potential danger").
** : All mission reports are not always available electronically.