Historic City of Meknes
Morocco
Factors affecting the property in 2000*
Deliberate destruction of heritage
Effects arising from use of transportation infrastructure
Ground transport infrastructure
Housing
Illegal activities
Water (rain/water table)
International Assistance: requests for the property until 2000
Requests approved: 0
Total amount approved : 0 USD
Missions to the property until 2000**
June 2000: mission
Conservation issues presented to the World Heritage Committee in 2000
In June 2000, a mission to the site revealed the existence of problems relating to the ramparts of the City:
· Urban problems, where in spite of a management plan in the process of being approved, numerous and on-the-spot decisions are being taken by the administration to the detriment of the preservation of the site;
· Structural problems, where the ramparts are threatened by natural degradation (rains, rising of capillary waters) and by degradation of human origin (canals disturbing the foundations, partial demolition for illicit construction, breaches for roads and vibration due to automobiles).
The report proposed a long-term plan in several stages to solve the problem permanently. It also recommended proceeding immediately with the implementation of emergency repair works and a maintenance plan spread over a period of time, due to the importance of the works and their costs.
Decisions adopted by the Committee in 2000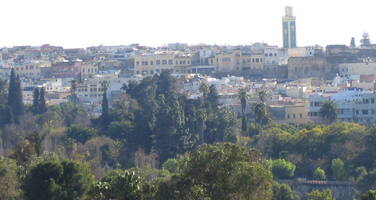 Morocco
Date of Inscription:
1996
Category: Cultural

Criteria: (iv)

Documents examined by the Committee
24COM (2000)
Exports
---
* : The threats indicated are listed in alphabetical order; their order does not constitute a classification according to the importance of their impact on the property.
Furthermore, they are presented irrespective of the type of threat faced by the property, i.e. with specific and proven imminent danger ("ascertained danger") or with threats which could have deleterious effects on the property's Outstanding Universal Value ("potential danger").
** : All mission reports are not always available electronically.