Archaeological Park and Ruins of Quirigua
Guatemala
Factors affecting the property in 1994*
Erosion and siltation/ deposition
Water (rain/water table)
Wind
International Assistance: requests for the property until 1994
Requests approved: 0
Total amount approved : 0 USD
Missions to the property until 1994**
Conservation issues presented to the World Heritage Committee in 1994
[Oral report by the UNDP/UNESCO Regional Project to the World Heritage Committee]
Summary of the interventions
Decisions adopted by the Committee in 1994
18 COM IX
SOC: Quirigua (Guatemala)
Quirigua (Guatemala)
The Committee took note of a report presented by the UNDP/UNESCO Project which stated that the state of conservation of the site is very good, but that it had been demonstrated that the architecture and sculptures are subject to continuous, low-level erosion. In the mid-eighties thatch-roofed huts were built over the site's sculptures to protect them from rainfall. These do not, however, protect the sculptures from wind-blown rainfall. Furthermore, it was noted that the storage areas for excavated objects do not meet minimal conservation standards.
It was recommended:
- that the size of the thatched roofs be increased so as to provide better protection to the sculptures;
- to examine the possibility of removing the sculptures to a site museum and to replace them by copies. A technical mission should be undertaken from Quirigua to Copan, Honduras to consult with the Copan personnel who recently successfully completed a similar effort;
- that the conditions of the storage areas be improved.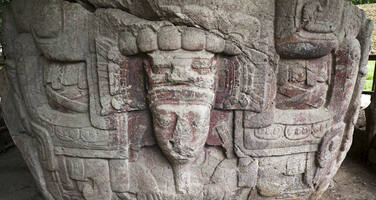 Guatemala
Date of Inscription:
1981
Category: Cultural

Criteria: (i)(ii)(iv)

Documents examined by the Committee
18COM (1994)
Exports
---
* : The threats indicated are listed in alphabetical order; their order does not constitute a classification according to the importance of their impact on the property.
Furthermore, they are presented irrespective of the type of threat faced by the property, i.e. with specific and proven imminent danger ("ascertained danger") or with threats which could have deleterious effects on the property's Outstanding Universal Value ("potential danger").
** : All mission reports are not always available electronically.