Historic Town of Ouro Preto
Brazil
Factors affecting the property in 1993*
Impacts of tourism / visitor / recreation
Management systems/ management plan
Factors* affecting the property identified in previous reports
Uncontrolled development of buildings (issue resolved);
Risks of a landslide (issue resolved);
Opening of roads (issue resolved);
Need to improve the traffic flow and the drainage of run-off water (issues resolved)
Lack of a comprehensive conservation plan
International Assistance: requests for the property until 1993
Requests approved: 1 (from 1991-1991)
Total amount approved : 3,300 USD
Missions to the property until 1993**
Conservation issues presented to the World Heritage Committee in 1993
[Oral report by ICOMOS and the Secretariat]
Summary of the interventions
Decisions adopted by the Committee in 1993
17 COM X
SOC: Historic Town of Ouro Preto (Brazil)
Historic Town of Ouro Preto (Brazil)
Important measures were taken by the municipal authorities to improve the traffic flow in the city and extensive work has been done to shore-up the hill slopes around the city. National and international tourism creates certain problems and an integral rehabilitation plan would have to be developed so as to improve the effects of tourism.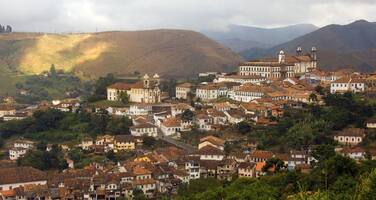 Brazil
Date of Inscription:
1980
Category: Cultural

Criteria: (i)(iii)

Documents examined by the Committee
17COM (1993)
Exports
---
* : The threats indicated are listed in alphabetical order; their order does not constitute a classification according to the importance of their impact on the property.
Furthermore, they are presented irrespective of the type of threat faced by the property, i.e. with specific and proven imminent danger ("ascertained danger") or with threats which could have deleterious effects on the property's Outstanding Universal Value ("potential danger").
** : All mission reports are not always available electronically.