Te Wahipounamu – South West New Zealand
New Zealand
Factors affecting the property in 1989*
International Assistance: requests for the property until 1989
Requests approved: 0
Total amount approved : 0 USD
Missions to the property until 1989**
Conservation issues presented to the World Heritage Committee in 1989
(Fjordland National Park)
Some concern had been expressed to IUCN that the integrity of this site may be threatened by interest expressed by Comalco New Zealand Ltd in purchasing an interest in the hydro-electric scheme in the national park from which power is drawn for an aluminium smelter which Comalco operates distant from the park.
When Fiordland was inscribed as a World Heritage site, the existence of the power scheme was accepted because of its design and modest scale in relation to the 1.2 million ha site and because there were strict rules governing operating levels of Lakes Te Anau and Manapouri monitored by an independent Guardians group.
Since State electricity generation in New Zealand has passed from a government department to a State corporation, Comalco has expressed interest in gaining an ownership interest in the Manapouri generation and transmission assets.
IUCN's enquiries have shown that the New Zealand Government accepts a 'commitment by Comalco that, in the event of it gaining an interest in these assets, it recognises the need to continue the present operational rules. In addition, the government has introduced legislation to give the Guardians of Lakes Manapouri and Te Anau statutory authority which should ensure that there is no threat to the integrity of the World Heritage site from the proposals.
Analysis and Conclusion by World Heritage Centre and the Advisory Bodies in 1989
The Committee may wish to commend the States Party on its initiative to give a statutory role to the Guardians and in its efforts to ensure that any changes in ownership of electricity generation and transmission in the World Heritage site will not threaten its integrity.
Summary of the interventions
This report was not discussed during the World Heritage Committee session.
Decisions adopted by the Committee in 1989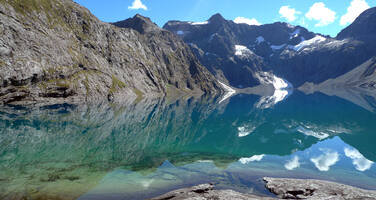 New Zealand
Date of Inscription:
1990
Category: Natural

Criteria: (vii)(viii)(ix)(x)

Documents examined by the Committee
13COM (1989)
Exports
---
* : The threats indicated are listed in alphabetical order; their order does not constitute a classification according to the importance of their impact on the property.
Furthermore, they are presented irrespective of the type of threat faced by the property, i.e. with specific and proven imminent danger ("ascertained danger") or with threats which could have deleterious effects on the property's Outstanding Universal Value ("potential danger").
** : All mission reports are not always available electronically.