Banc d'Arguin National Park and Wadden Sea sign historic Twinning Arrangement
Tuesday, 11 February 2014
1 min read
The Banc d'Arguin National Park (Mauritania) and The Wadden Sea (Germany /The Netherlands) are the most critical sites for migratory birds on the East Atlantic Flyway and are intimately connected in a unique and fascinating way.
The Wadden Sea provides support to migratory birds as a staging, moulting and wintering area. Every year, approximately 30% of the estimated 7 million wading birds that use the East Atlantic Flyway spend the winter at Banc d'Arguin National Park. Both sites understand that the conservation status of their World Heritage areas is very closely linked and decided to join forces, share best management practices and learn from one another.
The twinning arrangement was signed during the 12th Trilateral Governmental Conference from 4-6 February 2014 in Tønder, Denmark. The signatory ceremony took place under the patronage of the deputy ministers for the environment in Denmark and Mauritania. The twinning arrangement provides a framework for cooperation with a work package that will include support toward the designation of Banc d'Arguin National Park as a Particular Sensitive Sea Area (PSSA) under the International Maritime Organization regulation – a status that was obtained by the Wadden Sea in 2002.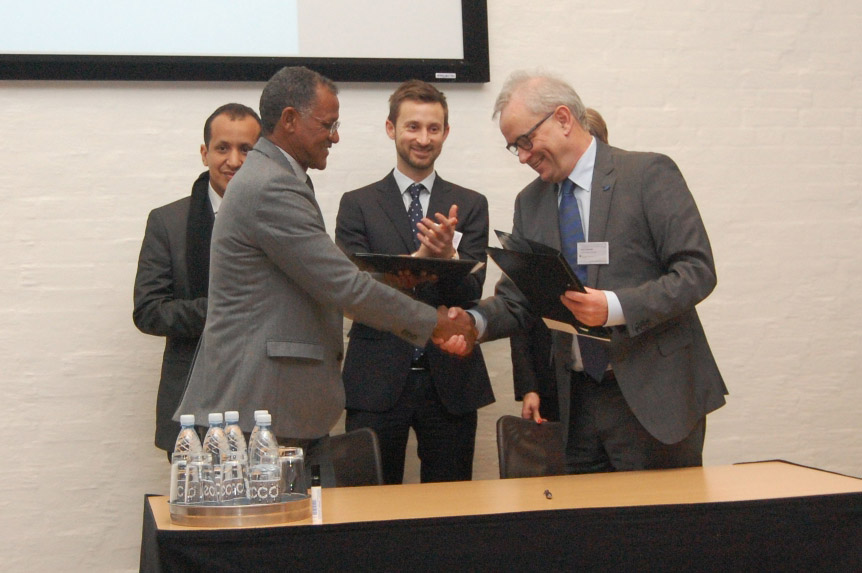 The agreement will facilitate considerably the exchange of capacity and expertise on bird monitoring and is unprecedented in the World Heritage marine network. Preparations for the twinning arrangements started in March 2013 with an exploratory meeting in Banc d'Arguin National Park that allowed both parties to understand the opportunities for a fruitful cooperation. The meeting was organized by the World Heritage Marine Programme as a response to the World Heritage Committee decisions 33COM8B.4 and 33COM7B.11.
Learn more about our work at Banc d'Arguin