Managing Disaster Risks for World Heritage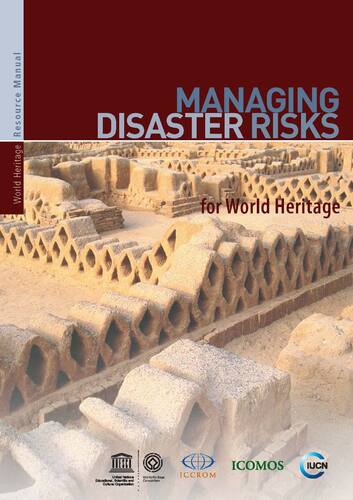 This first Manual within the series concerns the management of disaster risks for World Heritage properties. It focuses on one approach to the principles, methodology and process for managing disaster risks at cultural and natural World Heritage properties.
The key objectives of this Resource Manual are to help the managers and management authorities of cultural and natural World Heritage properties to reduce the risks to these properties from natural and human-made disasters; to illustrate the main principles of Disaster Risk Management (DRM) for heritage and a methodology to identify, assess and mitigate disaster risks; to explain how to prepare a DRM plan based on this methodology; to demonstrate that heritage can play a positive role in reducing risks from disasters and so help to justify the conservation of World Heritage properties; and finally, to suggest how DRM plans for heritage properties can be integrated with national and regional disaster management strategies and plans.
The manual is primarily aimed at site managers, management teams and the agencies and organizations that have a direct stake in the management of a heritage property. It can also be adapted and applied by other stakeholders, depending on their mandate and responsibilities.

Arabic Armenian Chinese English
 French German Polish Portuguese Spanish
The titles in this series are produced as PDF online documents which can be downloaded free of charge.
There is no hard copy version of this manual .
The World Heritage
Resource Manual Series
Since the World Heritage Convention was adopted in 1972, the World Heritage List has continually evolved and is growing steadily. With this growth, a critical need has emerged for guidance for States Parties on the implementation of the Convention. Various expert meetings and results of the periodic reporting process have identified the need for more focused training and capacity development in specific areas where States Parties and World Heritage site managers require greater support. The development of this series of World Heritage Resource Manuals is a response to this need.
The publication of the series is a joint undertaking by the three Advisory Bodies of the World Heritage Convention (ICCROM, ICOMOS and IUCN ) and the UNESCO World Heritage Centre as the Secretariat of the Convention.
Dates
Date Start: Thursday, 1 July 2010
Date end: Thursday, 1 July 2010