World Heritage and Biodiversity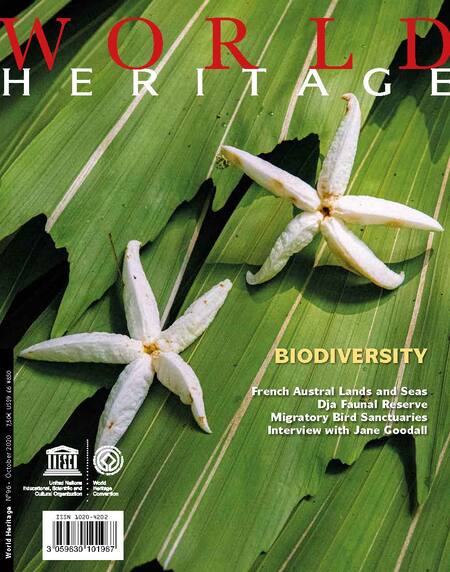 Title
World Heritage and Biodiversity
Publication date:
Monday, 21 December 2020
Description
We are pleased to bring you this issue on biodiversity and World Heritage sites, focusing on some of the properties most vital to the future of our planet.
These articles were prepared in anticipation of the UN Biodiversity Conference (COP 15) originally planned for October 2020 in Kunming, China, and the designation of a "biodiversity super year". Many far-reaching decisions concerning the preservation of biodiversity were meant to be taken in 2020. But due to the COVID-19 pandemic, a number of international meetings including COP 15 could not take place and have been postponed.
Meanwhile, the COVID-19 pandemic is not an isolated phenomenon. Scientific evidence links the emergence of the COVID-19 virus to the breakdown of ecosystems and biodiversity loss. Humankind has been destroying the natural environment at an accelerating rate, putting human populations in contact with new pathogens we are not equipped to control.
The year 2020 has also continued to show the interconnection of climate change and biodiversity. Rampant fires, probably caused by climate change impacts, have threatened natural World Heritage sites in many parts of the world, such as Brazil's Pantanal region and Australia's Blue Mountains and Gondwana Rainforests.
Again we saw coral mass bleaching events, including at the Great Barrier Reef (Australia). As proven in studies published by the UNESCO World Heritage Centre, if the global temperature increase cannot be limited to 1.5°C above pre-industrial levels, we may lose most World Heritage coral reef sites.
It is plausible the mysterious deaths of 330 elephants in the Okavango Delta (Botswana) were caused by toxic blooms of cyanobacteria, a dangerous phenomenon that has been increasing worldwide because of climate change. Extreme weather events have also hit the Rwenzori Mountains in Uganda, Socotra in Yemen and the Sundarbans in India, in addition to causing flooding at many cultural properties.
In this issue, we focus on crucial biodiversity areas: the 67 million ha site of the French Austral Lands and Seas, for example, and Dja Faunal Reserve in Cameroon, which has the triple status of wildlife reserve, UNESCO Biosphere Reserve and World Heritage site. We discover the Migratory Bird Sanctuaries along the Coast of Yellow Sea-Bohai Gulf of China, and we have an in-depth interview with renowned primatologist Jane Goodall. Tragically, instead of the biodiversity super year, 2020 has become the year that nature gives us a clear warning: if we do not reverse biodiversity loss and ecosystem degradation, and address the causes of climate change, the world could see unprecedented changes irreversibly affecting our planet and our way of life.
We can only hope what we have learned in 2020 will convince world leaders, and each one of us, to take the decisions needed for transformative change to save our planet.
Mechtild Rössler
Director
UNESCO World Heritage Centre
In Focus: Biodiversity
Preserving the world's natural treasures
Colombia provides a prime example of how the World Heritage Convention and the Convention on Biological Diversity work together to achieve effective protection and conservation of natural treasures.
Yancheng: Sanctuary for the Spoonies
The Migratory Bird Sanctuaries along the Coast of Yellow Sea-Bohai Gulf of China (Phase I) are of global importance for the gathering of many migratory bird species, including some of the world's most endangered species, that use the East Asian-Australasian flyway.
The French Austral Lands and Seas, biodiversity haven in the Southern Ocean
To preserve this exceptional but endangered nature, the Terres australes et antarctiques françaises (TAAF) authority, which oversees the property, has been implementing rigorous environmental management methods for more than ten years to ensure the site's integrity.
Dja Faunal Reserve: a natural treasure with diverse social representations
The Dja Faunal Reserve is the only protected area in Cameroon with triple status: wildlife reserve, Biosphere Reserve and World Heritage site. These three designations make Dja unique and subject it to the requirements of the Man and Biosphere Programme (MAB) and the World Heritage Convention.
Close-up
UNESCO and biodiversity: creating harmony UNESCO's unique network of Biosphere Reserves, which builds on more than 50 years' experience from protection to integrated management of connected landscapes and seascapes, demonstrates that it is already possible to live in harmony with nature. Good practices can inspire to reconnect beyond the boundaries of protected areas to empower all sectors of societies, including youth.
Forum
Interview Dr. Jane Goodall, DBE, Founder of the Jane Goodall Institute, UN Messenger of Peace.
Advisory Bodies
IUCN: Our promise to future generations: a world living in harmony with nature.
News
Preservation
Boosting firefighting to limit destruction in Brazil's Pantanal; Experts call for inclusive and regenerative tourism to 'build back stronger' post-COVID-19.
In Danger
UNESCO condemns the murder of two guards at Okapi Wildlife Reserve.
Outreach
Five Eastern African countries receive #SOSAfricanHeritage grants to promote COVID-19 resilience.
Author:
World Heritage Centre