During its 27th session in 2003 in Paris and following the debate on Vienna's proposed high-rise project, the WH Committee called for the organization of an international conference to discuss how to properly regulate the needs for modernization of our daily urban environment, while at the same time safeguarding the irreplaceable heritage that our historic cities constitute. In response to the Committee's request, the WH Centre in cooperation with the City of Vienna and ICOMOS organized the international conference 'World Heritage and Contemporary Architecture - Managing the Historic Urban Landscape' which took place in Vienna, Austria, from 12 to 14 May 2005 and was hosted by the Austrian Government
Conference Report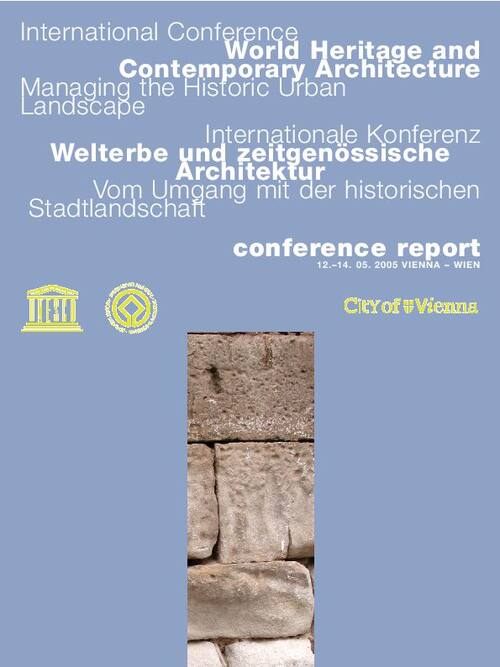 Objectives
Over 600 experts and professionals from 55 countries attended the conference and discussed 70 case studies involving high-rise or contemporary architectural interventions in historic cities and urban landscapes of heritage value. There was widespread agreement that criteria and guidelines for conservation management of the historic urban landscape are urgently needed and that existing charters and recommendations in this regard are no longer sufficient.
For this reason a Draft Memorandum outlining such criteria and guidelines was developed prior to the conference by the Centre,by a drafting group consisting of partner organizations of UNESCO, which was circulated to the participants at the conference for discussion and comments. UNESCO's Advisory Bodies ICOMOS and ICCROM, as well as partner organizations OWHC (Organization of World Heritage Cities), IFLA (International Federation of Landscape Architects), IUA (International Union of Architects) and IFHP (International Federation for Housing and Planning). The debates and comments during the Conference refined this document into what is now labelled as the Vienna Memorandum, which was presented to and welcomed by the WH Committee at its 29th session in Durban (South Africa) in July 2005.
UNESCO welcomes and promotes contemporary cultural expressions, including modern architecture, as they constitute a continuation of culture and cultural traditions. However, there are obviously limits to what to plan, design and build when working in valuable historic environments, which were voluntarily nominated by the countries concerned to be placed on the WH List. A World Heritage site is not just any other site and it requires special treatment. Therefore, high-rise constructions should be positioned sufficiently away from historic areas where they cannot disturb sensitive balances in the built environment, or obstruct views to historic landmarks and landscapes.
The WH Committee, in its pro-active role to prevent possible future problems, asked for this conference to facilitate public debate, bring different viewpoints to the fore and reach consensus about minimum requirements to be taken into account when dealing witha variety of factors in complex urban environments subject to change. With the adoption by the 15th General Assembly of States Parties to the World Heritage Convention (on 23 September 2005) of a Declaration on the Conservation of Historic Urban Landscapes, which is based on the Vienna Memorandum, this will mean the Committeethe international community has an additional tool to discuss, evaluate and assess future cases involving high-rise constructions and contemporary interventions in urban environments of heritage significance. The individual countriesfurthermore are invited to use this new tool and make it operational within their own policies and strategies for conservation management.
Background
With around half of the world's population living in urban areas today, supplemented by the projected growth of urbanization for the coming decade, the pressure on historic cities and their historic urban landscape will continue to mount, making urban and landscape conservation one of the most dynamic and daunting tasks of our time. Subsequently, the debates at World Heritage Committee sessions in recent years involving high-rise constructions and contemporary architectural interventions in World Heritage sites have increased dramatically.
With over 200 historic cities or city centres inscribed on the WH List sites concern historic cities or city centres, and the numbers are rising each year. As such, the WH Committee expects that it will need more and more time in the near future to discuss cases where urban development and contemporary architectureal interventions in historic cities are threatening existing cultural-historic values - most importantly the Outstanding Universal Value for which the property was put on the WH Listin the first place.
As cities will always be investing in new infrastructure, housing and office space, this phenomenon is here to stay and will constitute a permanent challenge: how to accomodate the needs for modernization and investment in historic cities and city centres, without compromising historic character and identity? What are the limits of acceptable change and what criteria to apply for evaluation and assessment?