World Heritage
n°64 - June 2012
World Heritage Review n°64

We are happy to publish this special issue dedicated to the World Heritage sites of the Russian Federation on the occasion of the 40th anniversary of the World Heritage Convention, which the Committee will be celebrating at its meeting in Saint Petersburg on 25 June 2012.
The inscription of both cultural and natural sites on the World Heritage List has progressed rapidly since the ratification of the World Heritage Convention by the Russian Federation in October 1988. Today, the List counts fifteen cultural and nine natural Russian sites – the latter including Virgin Komi Forests (3.3 million ha), and Putorana Plateau which covers 1.9 million ha and is surrounded by a 1.8 million ha buffer zone – ranking them among the largest listed terrestrial natural sites in the world.
It is also worth noting that Russia's Tentative List includes twenty-seven more natural and cultural sites for possible inscription – some of which will be considered at the Committee session. This conveys the country's continued and even ambitious commitment to the implementation of the Convention in the years to come. By any measure, the listed sites are impressive in their significance and scope, and deserve to be better known throughout the world. This issue devotes an article to each of them, and we are very pleased to publish messages from UNESCO Director-General Irina Bokova and Russian Minister of Foreign Affairs Sergey Lavrov, as well as an interview with H.E. Ms Eleonora Mitrofanova, Russian Ambassador to UNESCO and Chair of the World Heritage Committee.
The occasion of the present anniversary makes it apparent that forty years of work and reflection on the principles laid down in the Convention have had huge and lasting effects around the world. As Bernd von Droste, Founding Director of the UNESCO World Heritage Centre suggests in this issue, the understanding we have gained in this interval on the nature of our mission has very gradually shifted, as we have acquired a greater insight into ourselves as well as a better understanding of the world's cultures and their perspectives. In this way, we have learned to prize not only monuments and landscapes, but also the memory of all that is most precious to us. In this way, too, we have learned to value and preserve World Heritage sites as important markers of the knowledge and history that have come down to us; protecting them against unconsidered destruction and reinforcing their role as witnesses of our dignity and worth.
Table of Contents
Message by Irina Bokova, Director-General of UNESCO
Special Message by Serguey Lavrov, Minister of Foreign Affairs, Russian Federation
Interview with H. E. Mrs Eleonora Mitrofanova, Chair of UNESCO´s World Heritage Committee
World Heritage Committee Empowerment of the Convention: from theory to practical application
Map of World Heritage sites in the Russian Federation
Living heritage: Historic Cities and current development
Historic Centre of St Petersburg and Related Groups of Monuments
Historic Centre of the City of Yaroslavl
Citadel, Ancient City and Fortress Buildings of Derbent
Groups of Monuments in Cities
White Monuments of Vladimir and Suzdal
Historic Monuments of Novgorod and Surroundings
Political/fortress sites
Kremlin and Red Square, Moscow
Historic and Architectural Complex of the Kazan Kremlin
Monuments of North Russia
Kizhi Pogost
Cultural and Historic Ensemble of the Solovetsky Islands
Ensemble of the Ferrapontov Monastery
Churches and Monasteries of Central Russia
Church of the Ascension, Kolomenskoye
Ensemble of the Novodevichy Convent
Architectural Ensemble of the Trinity Sergius Lavra in Sergius Posad
Transboundary cooperation
Curonian Spit
Struve Geodetic Arc
Uvs Nuur Basin
Sanctuary Forests of Russia
Central Sikhote-Alin
Virgin Komi Forests
Lake Baikal
Ecosystems of Siberia and Far East
Natural System of Wrangel Island Reserve
Putorana Plateau
Volcanoes of Kamchatka
Highlands of Russia
Golden Mountains of Altai
Western Caucasus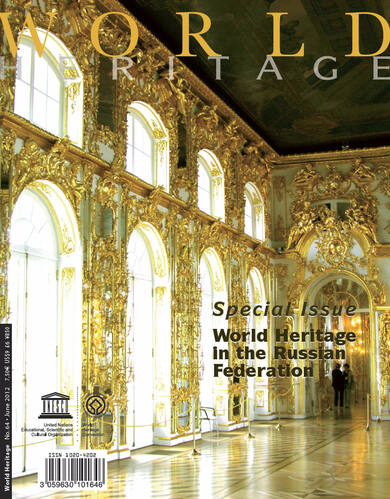 Subscribe to
World Heritage
Printed version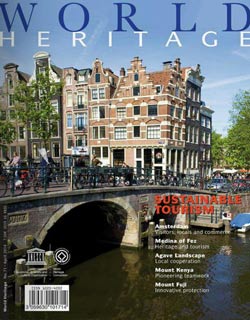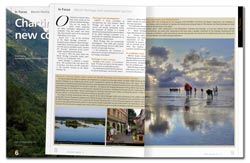 Download
the World Heritage app
Free for a limited time!

Available for iPad, Android and Kindle Fire tablets.
With the app, not only can you read exclusive articles written by experts on the ground, but see videos of the world's most spectacular sites taken by NHK and TBS.
Author
World Heritage Centre
Issue
64